Zagreb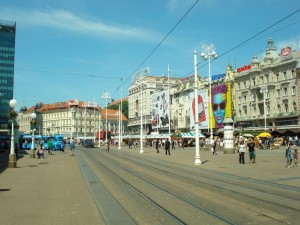 The
bus station in Zagreb
was founded in 1961 and it acquired its current appearance in 1987 when a new bus station building was built with the associated terminals. The Zagreb bus terminal is the biggest and the
most modern terminal in this part of Europe
. It provides its passengers with a fast and safe transportation to every destination in Croatia as well as all bigger European cities. Located near the central city square, the largest city roads, with a large and guarded parking lot, it offers its customers a number of places for rest and refreshment, shopping and entertainment.
Services provided by Zagreb bus station
Information Service will provide all the
information about arrivals and departures of buses from Zagreb station
and other Croatian and Europe cities, which come to Zagreb bus terminal. At fifteen ticket booths located in the central hall of the building, a friendly staff will give you a ticket in a few seconds. Safe and regular arrivals and departures of buses at 44 platforms are taken care of by Transport Services professionals. The
bus station luggage storage
is located next to the arrival platform 106 I. There is also a Cargo service in the luggage storage where consignments are received and dispatched. Parking for cars is located on the northern part of the bus station (entrance from the street Drzic), and it has a sufficient number of parking spaces even during increased visits. By calling 060 313 333 (1.71 € / min. for calls from landlines or 2.92 € / min. for calls from mobile networks including VAT) you can book your ticket and also ask for the ticket delivery to your home address. (Restrictions may apply)
The most popular routes from Zagreb bus station
As a capital city, Zagreb provides transportation to all Croatian destinations as well as bigger European capital cities. The most popular routes are:
If you are travelling to destinations in Istria
, you will have
direct connections to most cities
, but you will have a larger number of bus connections to choose between if you
first travel Zagreb to Rijeka
and then from Rijeka to your final destination in Istria,
same princip also apply for destinations in the Zadar region
(Zagreb - Zadar) and
destinations in the Split region
(Zagreb - Split):
.
Bus station location
View
Bus Station Zagreb
in a larger map
Bus station address
ZAGREBAČKI HOLDING d.o.o
Podružnica Autobusni kolodvor Zagreb
Avenija Marina Držića 4 10000 Zagreb Tel: +385 1 6008 600 Fax: +385 1 6008 616 Info on timetable and ticket reservation Tel: +385 1 6112 789