Zagreb to Plitvice Lakes
The national park Plitvice is an absolute must when visiting Croatia, the national park is situated in the county Lika, close to the border to Bosnia and Herzegovina. The park is open all year around.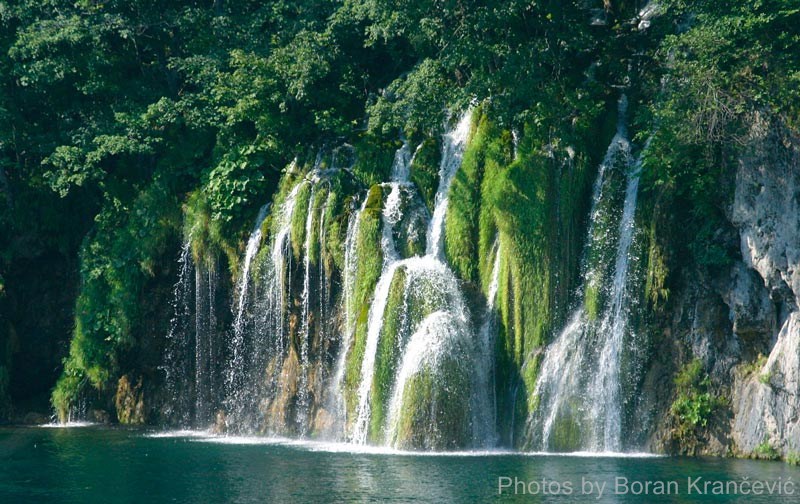 Travelling by bus from Zagreb to Plitvice Lakes:
From Zagreb main bus station there is a handful of daily buses during winter season, and about
10 daily buses during the summer season
, price for a one way ticket is about 100 kn. You can see current bus timetable below. (
Buses for the opposite direction can be found here
) If you are
landing at the Zagreb airport
and which do go to Plitvice lakes, you will first have to
take the airport bus to the main bus station
.
Daytrip from Zagreb to Plitvice lakes:
If you
are staying in Zagreb
, and wish to
visit National park Plitvice on a daytrip
, you have the following options.
Public bus, most economical if you are only 1-2 persons, but less flexible.
Rent a car in Zagreb, depending on the time of the year you can rent a small 4 person car in Zagreb from about 250-300 kn, if you drive following the fastest route, it should take you about 2.15 min to get to Plitvice from Zagreb centre. Additional cost: road toll which is about 40 kn (return) and about 200-300 kn gas spending, which means your total travel cost should be about 500-600 kn. – you can find rentals offers from Zagreb and Zagreb airport here.
Organized daytrip, from Zagreb you have several travel agencies offer small group (2-8 persons) day trips, you can read more about the daytrips here.
Accommodation by Plitvice Lakes
If you are on a
roundtrip in Croatia
, you should consider visiting National park Plitvice with and overnight stay, doing so you will have option to go to the park early in the morning which is
probably the best time of day to shoot great pictures
, do to the position of the sun, and the lesser crowds. Inside the park area you have
several hotels and in the surrounding area
, (Which by the way is very beautiful) you have option to stay in one of the many private apartments, B&B and hostels.
| | | |
| --- | --- | --- |
| Plitvice | Plitvice | Plitvice |
Other means of Transportation:
Apart from the travel options mention above, there are no
other travel options
except for going with own car.
ID
Departure/Arrival
Info
Price
Tickets

3187

| Station | Arrival | Departure |
| --- | --- | --- |
| Zagreb, Bus terminal | | 05:45 |
| Karlovac, Bus terminal | 06:40 | 06:40 |
| Slunj | 07:35 | 07:35 |
| Plitvice Lakes | 08:10 | 08:10 |
| Licko Petrovo selo | 08:15 | |

Operational intervals
01.09. - 31.12.
01.01. - 30.06.

Monday
Tuesday
Wednesday
Thursday
Friday
Saturday



Click to see map.

05:45

08:10

| Station | Arrival | Departure |
| --- | --- | --- |
| Zagreb, Bus terminal | | 05:45 |
| Karlovac, Bus terminal | 06:40 | 06:40 |
| Slunj | 07:35 | 07:35 |
| Plitvice Lakes | 08:10 | 08:10 |
| Licko Petrovo selo | 08:15 | |

Operational intervals
01.09. - 31.12.
01.01. - 30.06.

Monday
Tuesday
Wednesday
Thursday
Friday
Saturday



Click to see map.

79

118

Autobusni prijevoz Varaždin d.o.o.

161

| Station | Arrival | Departure |
| --- | --- | --- |
| Varazdin, Bus terminal | | 05:50 |
| Zagreb, Bus terminal | 07:15 | 07:30 |
| Karlovac, Bus terminal | 08:20 | 08:20 |
| Slunj | 09:10 | 09:10 |
| Plitvice Lakes | 09:45 | 09:45 |
| Korenica, 1 (M) > Udbina | 10:05 | 10:05 |
| Udbina | 10:40 | 10:40 |
| Gracac, Bus terminal | 11:05 | 11:05 |
| Obrovac | 11:45 | 11:45 |
| Zadar, Bus terminal | 12:30 | 12:45 |
| Sukosan | 12:55 | 12:55 |
| Biograd na Moru, Bus terminal | 13:15 | 13:15 |
| Pirovac | 13:45 | 13:45 |
| Vodice, Bus terminal | 14:00 | 14:00 |
| Sibenik, Bus terminal | 14:20 | 14:20 |
| Primosten, Primošten Center OUT | 14:50 | 14:50 |
| Trogir, Bus terminal | 15:20 | 15:20 |
| Split, Bus terminal | 16:00 | 16:15 |
| Makarska, Bus terminal | 17:15 | 17:15 |
| Tucepi | 17:23 | 17:23 |
| Podgora | 17:28 | 17:28 |
| Igrane | 17:45 | 17:45 |
| Zivogosce | 17:50 | 17:50 |
| Duba | 17:56 | 17:56 |
| Drvenik | 18:02 | 18:02 |
| Zaostrog | 18:08 | 18:08 |
| Gradac | 18:15 | 18:15 |
| Bacina | 18:23 | 18:23 |
| Ploce, Bus terminal | 18:30 | 18:30 |
| Opuzen | 18:45 | 18:45 |
| Metkovic, Bus terminal | 19:00 | 19:00 |
| Ston (Zaton Doli), Intersection > Dubrovnik | 19:25 | 19:25 |
| Slano | 19:35 | 19:35 |
| Orasac | 19:53 | 19:53 |
| Trsteno | 20:05 | 20:05 |
| Zaton Veliki, 1 (M) > Dubrovnik | 20:15 | 20:15 |
| Dubrovnik, Bus terminal | 20:30 | |

Operational intervals
01.01. - 31.12.

Monday
Tuesday
Wednesday
Thursday
Friday
Saturday
Sunday



Click to see map.

07:30

09:45

| Station | Arrival | Departure |
| --- | --- | --- |
| Varazdin, Bus terminal | | 05:50 |
| Zagreb, Bus terminal | 07:15 | 07:30 |
| Karlovac, Bus terminal | 08:20 | 08:20 |
| Slunj | 09:10 | 09:10 |
| Plitvice Lakes | 09:45 | 09:45 |
| Korenica, 1 (M) > Udbina | 10:05 | 10:05 |
| Udbina | 10:40 | 10:40 |
| Gracac, Bus terminal | 11:05 | 11:05 |
| Obrovac | 11:45 | 11:45 |
| Zadar, Bus terminal | 12:30 | 12:45 |
| Sukosan | 12:55 | 12:55 |
| Biograd na Moru, Bus terminal | 13:15 | 13:15 |
| Pirovac | 13:45 | 13:45 |
| Vodice, Bus terminal | 14:00 | 14:00 |
| Sibenik, Bus terminal | 14:20 | 14:20 |
| Primosten, Primošten Center OUT | 14:50 | 14:50 |
| Trogir, Bus terminal | 15:20 | 15:20 |
| Split, Bus terminal | 16:00 | 16:15 |
| Makarska, Bus terminal | 17:15 | 17:15 |
| Tucepi | 17:23 | 17:23 |
| Podgora | 17:28 | 17:28 |
| Igrane | 17:45 | 17:45 |
| Zivogosce | 17:50 | 17:50 |
| Duba | 17:56 | 17:56 |
| Drvenik | 18:02 | 18:02 |
| Zaostrog | 18:08 | 18:08 |
| Gradac | 18:15 | 18:15 |
| Bacina | 18:23 | 18:23 |
| Ploce, Bus terminal | 18:30 | 18:30 |
| Opuzen | 18:45 | 18:45 |
| Metkovic, Bus terminal | 19:00 | 19:00 |
| Ston (Zaton Doli), Intersection > Dubrovnik | 19:25 | 19:25 |
| Slano | 19:35 | 19:35 |
| Orasac | 19:53 | 19:53 |
| Trsteno | 20:05 | 20:05 |
| Zaton Veliki, 1 (M) > Dubrovnik | 20:15 | 20:15 |
| Dubrovnik, Bus terminal | 20:30 | |

Operational intervals
01.01. - 31.12.

Monday
Tuesday
Wednesday
Thursday
Friday
Saturday
Sunday



Click to see map.

90

135

2894

| Station | Arrival | Departure |
| --- | --- | --- |
| Zagreb, Bus terminal | | 10:30 |
| Karlovac, Bus terminal | 11:25 | 11:30 |
| Cerovac Vukmanicki, Stop towards -> Slunj | 11:43 | 11:43 |
| Tusilovic | 11:49 | 11:49 |
| Krnjak | 11:53 | 11:53 |
| Budacka Rijeka | 11:57 | 11:57 |
| Zagorje, Zagorje intesection | 12:01 | 12:01 |
| Tocak | 12:04 | 12:04 |
| Veljun | 12:06 | 12:06 |
| Hrvatski Blagaj | 12:14 | 12:14 |
| Niksic | 12:21 | 12:21 |
| Slunj | 12:28 | 12:30 |
| Rakovica | 12:47 | 12:47 |
| Grabovac (Rakovica) | 12:58 | 12:58 |
| Plitvice Lakes | 13:07 | 13:07 |
| Mukinje | 13:09 | 13:09 |
| Kapela Korenicka | 13:20 | 13:20 |
| Rudanovac | 13:22 | 13:22 |
| Borje Motel | 13:25 | 13:25 |
| Korenica, 1 (M) > Udbina | 13:34 | |

Operational intervals
01.01. - 31.12.

Monday
Tuesday
Wednesday
Thursday
Friday
Saturday
Sunday



Click to see map.

10:30

13:07

| Station | Arrival | Departure |
| --- | --- | --- |
| Zagreb, Bus terminal | | 10:30 |
| Karlovac, Bus terminal | 11:25 | 11:30 |
| Cerovac Vukmanicki, Stop towards -> Slunj | 11:43 | 11:43 |
| Tusilovic | 11:49 | 11:49 |
| Krnjak | 11:53 | 11:53 |
| Budacka Rijeka | 11:57 | 11:57 |
| Zagorje, Zagorje intesection | 12:01 | 12:01 |
| Tocak | 12:04 | 12:04 |
| Veljun | 12:06 | 12:06 |
| Hrvatski Blagaj | 12:14 | 12:14 |
| Niksic | 12:21 | 12:21 |
| Slunj | 12:28 | 12:30 |
| Rakovica | 12:47 | 12:47 |
| Grabovac (Rakovica) | 12:58 | 12:58 |
| Plitvice Lakes | 13:07 | 13:07 |
| Mukinje | 13:09 | 13:09 |
| Kapela Korenicka | 13:20 | 13:20 |
| Rudanovac | 13:22 | 13:22 |
| Borje Motel | 13:25 | 13:25 |
| Korenica, 1 (M) > Udbina | 13:34 | |

Operational intervals
01.01. - 31.12.

Monday
Tuesday
Wednesday
Thursday
Friday
Saturday
Sunday



Click to see map.

85

128

Autobusni prijevoz Varaždin d.o.o.

115

| Station | Arrival | Departure |
| --- | --- | --- |
| Varazdin, Bus terminal | | 09:30 |
| Novi Marof, Bus terminal | 09:55 | 09:55 |
| Zagreb, Bus terminal | 10:55 | 11:30 |
| Karlovac, Bus terminal | 12:20 | 12:20 |
| Slunj | 13:20 | 13:20 |
| Plitvice Lakes | 13:50 | 13:50 |
| Korenica, 1 (M) > Udbina | 14:00 | 14:00 |
| Gracac, Bus terminal | 15:20 | 15:20 |
| Obrovac | 15:50 | 15:50 |
| Posedarje | 16:20 | 16:20 |
| Zadar, Bus terminal | 16:40 | 16:45 |
| Sukosan | 17:00 | 17:00 |
| Biograd mag. | 17:15 | 17:15 |
| Pirovac | 17:40 | 17:40 |
| Vodice, Bus terminal | 17:50 | 17:50 |
| Sibenik, Bus terminal | 18:10 | 18:15 |
| Primosten, Primošten Center OUT | 18:50 | 18:50 |
| Rogoznica Mag. | 19:00 | 19:00 |
| Marina | 19:10 | 19:10 |
| Trogir, Bus terminal | 19:25 | 19:25 |
| Split, Bus terminal | 20:00 | |

Operational intervals
01.01. - 31.12.

Monday
Tuesday
Wednesday
Thursday
Friday
Saturday
Sunday



Click to see map.

11:30

13:50

| Station | Arrival | Departure |
| --- | --- | --- |
| Varazdin, Bus terminal | | 09:30 |
| Novi Marof, Bus terminal | 09:55 | 09:55 |
| Zagreb, Bus terminal | 10:55 | 11:30 |
| Karlovac, Bus terminal | 12:20 | 12:20 |
| Slunj | 13:20 | 13:20 |
| Plitvice Lakes | 13:50 | 13:50 |
| Korenica, 1 (M) > Udbina | 14:00 | 14:00 |
| Gracac, Bus terminal | 15:20 | 15:20 |
| Obrovac | 15:50 | 15:50 |
| Posedarje | 16:20 | 16:20 |
| Zadar, Bus terminal | 16:40 | 16:45 |
| Sukosan | 17:00 | 17:00 |
| Biograd mag. | 17:15 | 17:15 |
| Pirovac | 17:40 | 17:40 |
| Vodice, Bus terminal | 17:50 | 17:50 |
| Sibenik, Bus terminal | 18:10 | 18:15 |
| Primosten, Primošten Center OUT | 18:50 | 18:50 |
| Rogoznica Mag. | 19:00 | 19:00 |
| Marina | 19:10 | 19:10 |
| Trogir, Bus terminal | 19:25 | 19:25 |
| Split, Bus terminal | 20:00 | |

Operational intervals
01.01. - 31.12.

Monday
Tuesday
Wednesday
Thursday
Friday
Saturday
Sunday



Click to see map.

86

129

3084

| Station | Arrival | Departure |
| --- | --- | --- |
| Zagreb, Bus terminal | | 12:30 |
| Karlovac, Bus terminal | 13:10 | 13:10 |
| Plitvice Lakes | 14:20 | 14:20 |
| Korenica, 1 (M) > Udbina | 14:30 | 14:30 |
| Udbina | 15:30 | 15:30 |
| Knin, Bus terminal | 17:00 | 17:00 |
| Sinj, Bus terminal | 18:00 | 18:00 |
| Split, Bus terminal | 18:50 | 19:00 |
| Omis | 19:30 | 19:30 |
| Stanici, ST -> DU (Hotel Germania) | 19:38 | 19:38 |
| Ruskamen, 1 (M) > Dubrovnik | 19:39 | 19:39 |
| Lokva Rogoznica | 19:41 | 19:41 |
| Mimice | 19:44 | 19:44 |
| Marusici, ST -> DU 1 mag. | 19:46 | 19:46 |
| Pisak, 1 (M) > Dubrovnik | 19:49 | 19:49 |
| Dubci | 19:50 | 19:50 |
| Brela Magistrala | 19:55 | 19:55 |
| Baska Voda | 20:00 | 20:00 |
| Basko Polje | 20:01 | 20:01 |
| Promajna | 20:03 | 20:03 |
| Krvavica | 20:05 | 20:05 |
| Makarska, Bus terminal | 20:10 | 20:10 |
| Tucepi | 20:20 | 20:20 |
| Podgora | 20:25 | 20:25 |
| Drasnice | 20:30 | 20:30 |
| Igrane | 20:37 | 20:37 |
| Zivogosce | 20:40 | 20:40 |
| Mala Duba | 20:41 | 20:41 |
| Drvenik | 20:51 | 20:51 |
| Zaostrog | 20:53 | 20:53 |
| Podaca | 20:57 | 20:57 |
| Brist | 20:58 | 20:58 |
| Gradac | 21:00 | 21:00 |
| Bacina | 21:06 | 21:06 |
| Ploce, Bus terminal | 21:20 | 21:20 |
| Metkovic, Bus terminal | 21:45 | |

Operational intervals
01.01. - 31.12.

Monday
Tuesday
Wednesday
Thursday
Friday
Saturday
Sunday



Click to see map.

12:30

14:20

| Station | Arrival | Departure |
| --- | --- | --- |
| Zagreb, Bus terminal | | 12:30 |
| Karlovac, Bus terminal | 13:10 | 13:10 |
| Plitvice Lakes | 14:20 | 14:20 |
| Korenica, 1 (M) > Udbina | 14:30 | 14:30 |
| Udbina | 15:30 | 15:30 |
| Knin, Bus terminal | 17:00 | 17:00 |
| Sinj, Bus terminal | 18:00 | 18:00 |
| Split, Bus terminal | 18:50 | 19:00 |
| Omis | 19:30 | 19:30 |
| Stanici, ST -> DU (Hotel Germania) | 19:38 | 19:38 |
| Ruskamen, 1 (M) > Dubrovnik | 19:39 | 19:39 |
| Lokva Rogoznica | 19:41 | 19:41 |
| Mimice | 19:44 | 19:44 |
| Marusici, ST -> DU 1 mag. | 19:46 | 19:46 |
| Pisak, 1 (M) > Dubrovnik | 19:49 | 19:49 |
| Dubci | 19:50 | 19:50 |
| Brela Magistrala | 19:55 | 19:55 |
| Baska Voda | 20:00 | 20:00 |
| Basko Polje | 20:01 | 20:01 |
| Promajna | 20:03 | 20:03 |
| Krvavica | 20:05 | 20:05 |
| Makarska, Bus terminal | 20:10 | 20:10 |
| Tucepi | 20:20 | 20:20 |
| Podgora | 20:25 | 20:25 |
| Drasnice | 20:30 | 20:30 |
| Igrane | 20:37 | 20:37 |
| Zivogosce | 20:40 | 20:40 |
| Mala Duba | 20:41 | 20:41 |
| Drvenik | 20:51 | 20:51 |
| Zaostrog | 20:53 | 20:53 |
| Podaca | 20:57 | 20:57 |
| Brist | 20:58 | 20:58 |
| Gradac | 21:00 | 21:00 |
| Bacina | 21:06 | 21:06 |
| Ploce, Bus terminal | 21:20 | 21:20 |
| Metkovic, Bus terminal | 21:45 | |

Operational intervals
01.01. - 31.12.

Monday
Tuesday
Wednesday
Thursday
Friday
Saturday
Sunday



Click to see map.

87

140

Arriva - Autotrans

Autopromet d.d. Slunj

3190

| Station | Arrival | Departure |
| --- | --- | --- |
| Zagreb, Bus terminal | | 14:15 |
| Karlovac, Bus terminal | 15:15 | 15:15 |
| Slunj | 16:15 | 16:15 |
| Plitvice Lakes | 16:45 | |

Operational intervals
01.01. - 31.12.

Monday
Tuesday
Wednesday
Thursday
Friday
Saturday
Sunday



Click to see map.

14:15

16:45

| Station | Arrival | Departure |
| --- | --- | --- |
| Zagreb, Bus terminal | | 14:15 |
| Karlovac, Bus terminal | 15:15 | 15:15 |
| Slunj | 16:15 | 16:15 |
| Plitvice Lakes | 16:45 | |

Operational intervals
01.01. - 31.12.

Monday
Tuesday
Wednesday
Thursday
Friday
Saturday
Sunday



Click to see map.

85

128

APZ Imotski-Autoherc d.o.o

957

| Station | Arrival | Departure |
| --- | --- | --- |
| Zagreb, Bus terminal | | 14:30 |
| Karlovac, Bus terminal | 15:10 | 15:10 |
| Plitvice Lakes | 16:20 | 16:20 |
| Korenica, 1 (M) > Udbina | 16:45 | 17:10 |
| Udbina | 17:40 | 17:40 |
| Knin, Bus terminal | 19:00 | 19:00 |
| Sinj, Bus terminal | 19:55 | 19:55 |
| Cista Provo | 20:40 | 20:40 |
| Lovrec | 20:45 | 20:45 |
| Krivodol (Podbablje) | 21:00 | 21:00 |
| Imotski, Bus terminal | 21:15 | 21:30 |
| Gornji Vinjani, Border | 21:40 | 21:40 |
| Osoje | 22:10 | 22:10 |
| Posusje | 22:20 | 22:20 |
| Siroki Brijeg, Miškić Bus terminal | 22:52 | 22:52 |
| Mostar (West), Bus terminal | 23:17 | |

Operational intervals
01.01. - 31.12.

Monday
Tuesday
Wednesday
Thursday
Friday
Saturday
Sunday



Click to see map.

14:30

16:20

| Station | Arrival | Departure |
| --- | --- | --- |
| Zagreb, Bus terminal | | 14:30 |
| Karlovac, Bus terminal | 15:10 | 15:10 |
| Plitvice Lakes | 16:20 | 16:20 |
| Korenica, 1 (M) > Udbina | 16:45 | 17:10 |
| Udbina | 17:40 | 17:40 |
| Knin, Bus terminal | 19:00 | 19:00 |
| Sinj, Bus terminal | 19:55 | 19:55 |
| Cista Provo | 20:40 | 20:40 |
| Lovrec | 20:45 | 20:45 |
| Krivodol (Podbablje) | 21:00 | 21:00 |
| Imotski, Bus terminal | 21:15 | 21:30 |
| Gornji Vinjani, Border | 21:40 | 21:40 |
| Osoje | 22:10 | 22:10 |
| Posusje | 22:20 | 22:20 |
| Siroki Brijeg, Miškić Bus terminal | 22:52 | 22:52 |
| Mostar (West), Bus terminal | 23:17 | |

Operational intervals
01.01. - 31.12.

Monday
Tuesday
Wednesday
Thursday
Friday
Saturday
Sunday



Click to see map.

80

128

APZ Imotski-Autoherc d.o.o

958

| Station | Arrival | Departure |
| --- | --- | --- |
| Zagreb, Bus terminal | | 21:30 |
| Plitvice Lakes | 23:15 | 23:15 |
| Korenica, 1 (M) > Udbina | 23:59 | 23:59 |
| Udbina | 00:36 | 00:36 |
| Knin, Bus terminal | 02:21 | 02:21 |
| Sinj, Bus terminal | 03:37 | 03:37 |
| Cista Provo | 04:09 | 04:09 |
| Lovrec | 04:12 | 04:12 |
| Krivodol (Podbablje) | 04:27 | 04:27 |
| Imotski, Bus terminal | 04:38 | 04:50 |
| Gornji Vinjani, Border | 05:00 | 05:00 |
| Osoje | 05:30 | 05:30 |
| Posusje | 05:40 | 05:40 |
| Siroki Brijeg, Miškić Bus terminal | 06:15 | 06:15 |
| Mostar (West), Bus terminal | 06:40 | |

Operational intervals
01.01. - 31.12.

Monday
Tuesday
Wednesday
Thursday
Friday
Saturday
Sunday



Click to see map.

21:30

23:15

| Station | Arrival | Departure |
| --- | --- | --- |
| Zagreb, Bus terminal | | 21:30 |
| Plitvice Lakes | 23:15 | 23:15 |
| Korenica, 1 (M) > Udbina | 23:59 | 23:59 |
| Udbina | 00:36 | 00:36 |
| Knin, Bus terminal | 02:21 | 02:21 |
| Sinj, Bus terminal | 03:37 | 03:37 |
| Cista Provo | 04:09 | 04:09 |
| Lovrec | 04:12 | 04:12 |
| Krivodol (Podbablje) | 04:27 | 04:27 |
| Imotski, Bus terminal | 04:38 | 04:50 |
| Gornji Vinjani, Border | 05:00 | 05:00 |
| Osoje | 05:30 | 05:30 |
| Posusje | 05:40 | 05:40 |
| Siroki Brijeg, Miškić Bus terminal | 06:15 | 06:15 |
| Mostar (West), Bus terminal | 06:40 | |

Operational intervals
01.01. - 31.12.

Monday
Tuesday
Wednesday
Thursday
Friday
Saturday
Sunday



Click to see map.

88

136