Zagreb to Novalja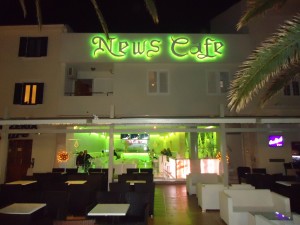 The
travelling distance between Zagreb and Novalja is about 225 km
following the route via the highway, till the exit point to Senj, from here the route goes along the coast till Prizna, where the ferry crossing is to Zigljen on Island Pag, from Zigljan there is only about 10 km to Novalja.
Alternative route
by car, goes on the
highway to the exit point Posedarje
, from here road continues to "Paski most" the
bridge connecting main land and Island Pag
, well arrived on island Pag, there is about 45 km to Novalja, total length of this route is about 325 km, travelling time with car about 3.5 hours.
Travelling by bus from Zagreb to Novalja:
There are some seasonal direct connections between Zagreb and Novalja, you can see the connections below . The buses departure from the
main bus station in Zagreb
, which is not that far from the
main train station
(stations connected with tram system). All buses travel via the first route mentioned above. Alternative to the direct routes, is to
travel to Zadar
and then catch a bus to Novalja from there, you can see
bus connections between Zadar and Zagreb
here
, and
here
you find bus connection between Zadar and Novalja. If you arrive to Zagreb Airport, you first have to take the airport bus to the main bus station in Zagreb and then change to bus for Novalja (or Zadar). Information about getting
from Zagreb airport you can find here
Accommodation in Novalja:
The accommodation offer in Novalja, includes,
Hostels, bed and breakfast, campsites, hotels and of course private apartments
. During month number 7 and 8 it can get crowded, which means booking ahead, is not so bad and idea.
Other means of Transportation:
By Car
: Travelling by Car from Zagreb to Novalja, is fairly easy as roads are in good condition, remember that
toll apply to the Highway
, and if you travel via route number one, you also have cost for ferry. If you wish to rent a car in
Zagreb centre or Airport
you can find car rental offers
here
.
Catamaran from Rijeka:
there is a daily
catamaran connection from Rijeka to Novalja
, as buses between Zagreb and Rijeka are quite frequent you may consider this as a travel alternative, you can see bus connection between Zagreb and Rijeka
here
, and the departure time of the catamaran you find
here
.
ID
Departure/Arrival
Info
Price
Tickets

538

| Station | Arrival | Departure |
| --- | --- | --- |
| Zagreb, Bus terminal | | 11:30 |
| Karlovac, Bus terminal | 12:25 | 12:25 |
| Belavici (Duga Resa) | 12:38 | 12:38 |
| Zvecaj | 12:42 | 12:42 |
| Generalski Stol | 12:49 | 12:49 |
| Donje Dubrave | 12:53 | 12:53 |
| Tounj | 13:00 | 13:00 |
| Josipdol | 13:10 | 13:10 |
| Modrus | 13:20 | 13:35 |
| Jezerane | 13:55 | 13:55 |
| Krizpolje | 14:04 | 14:04 |
| Brinje | 14:10 | 14:10 |
| Prokike | 14:18 | 14:18 |
| Zuta Lokva | 14:22 | 14:22 |
| Melnice | 14:28 | 14:28 |
| Senj, Bus terminal | 15:00 | 15:30 |
| Prizna, By Ferry Port | 16:18 | 16:30 |
| Zigljen (Pag) | 16:50 | 16:50 |
| Novalja, Bus terminal | 17:05 | 17:05 |
| Pag (town) | 17:38 | |

Operational intervals
01.01. - 31.12.

Monday
Tuesday
Wednesday
Thursday
Friday
Saturday
Sunday



Click to see map.

11:30

17:05

| Station | Arrival | Departure |
| --- | --- | --- |
| Zagreb, Bus terminal | | 11:30 |
| Karlovac, Bus terminal | 12:25 | 12:25 |
| Belavici (Duga Resa) | 12:38 | 12:38 |
| Zvecaj | 12:42 | 12:42 |
| Generalski Stol | 12:49 | 12:49 |
| Donje Dubrave | 12:53 | 12:53 |
| Tounj | 13:00 | 13:00 |
| Josipdol | 13:10 | 13:10 |
| Modrus | 13:20 | 13:35 |
| Jezerane | 13:55 | 13:55 |
| Krizpolje | 14:04 | 14:04 |
| Brinje | 14:10 | 14:10 |
| Prokike | 14:18 | 14:18 |
| Zuta Lokva | 14:22 | 14:22 |
| Melnice | 14:28 | 14:28 |
| Senj, Bus terminal | 15:00 | 15:30 |
| Prizna, By Ferry Port | 16:18 | 16:30 |
| Zigljen (Pag) | 16:50 | 16:50 |
| Novalja, Bus terminal | 17:05 | 17:05 |
| Pag (town) | 17:38 | |

Operational intervals
01.01. - 31.12.

Monday
Tuesday
Wednesday
Thursday
Friday
Saturday
Sunday



Click to see map.

210

316