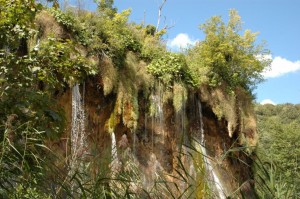 National park Plitvice lakes is with more than one million visitors yearly, the most visited attraction in Croatia, Plitvice is situated a bit remote in the Lika county which is pretty much in the middle of the country (If you can put it like that considering the shape of Croatia).
Travelling by bus from Split to Plitvice Lakes:

The distance between Split and the Plitvice lakes is about 250 km, The fast route is following the Highway from Split to a bit after the Sveti Rok Tunnel, and then from there on via the country road until you get to the National park.
The area around Plitvice has a pretty low population density which is reflected in the limited number of regular buses which passes by the national park, from Split there is a few daily departures which you can see here. Unfortunately the public buses are not suitable for a day trip to Plitvice Lakes, but there are companies organising day tours from Split to Plitvice, like this one below.


Daytrip from Split to Plitvice lakes:
Pick Up between 7.00 am and 7.30 am at arrange meeting point. Drive on the highway to National Park Plitvice Lakes. Guided tour a cross the National Park including boat ride and ride with electric train (ca 5 hrs). Optional stop in traditional restaurant. Expected time of return 8.00 pm.
Tour facts.
Starting point: hotel or apartment pick up
Starting time: 7.30
Duration: 12 h
Prices per person: 550 kn
Guide Languages: Eng, Ger, Ita
Stuff to bring for trip: camera, comfortable shoes, sun cream
You can send a request for the excursion to Plitvice lakes here
| | | |
| --- | --- | --- |
| Plitvice | Plitvice | Plitvice |
Other means of Transportation:
By Car, own or rented: If you choose to drive by car from Split to Plitvice lakes, you could choose same route as described above, alternatively, there is a tool free route via Drnis, Knin and Gračac, this route, is with 225 km actually shorter then the route following the highway, but do to road conditions travelling time is about 3.5-4 hours, which is about 1 hour longer then the route via the highway. If you don't have you own car, you can rent one in Spilt here
If you are not up to driving your selves, alternative option with a car is a private transfer, here you can see prices and pre-book here
By Train: There is no train connection to Plitvice
By Plane:  Nearest airport is Zagreb which is about 130 km from the national park.
Accommodation by Plitvice Lakes

By the park entrances there are several hotels, offering not only overnight, but also various packaged including visit to the Park, Hotels offers around National park Plitvice you can check here, the cheapest option for accommodation around the park, is private accommodation and bed and breakfast, a large selection of those types of accommodation you can find here
Map of Route from Split to Plitvice Lakes:

View Bus Split to Plitvice Lakes in a larger map