Split to Krka waterfalls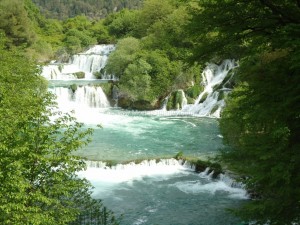 National park Krka
, is one of the most beautiful nature spots in Croatia, we can highly recommend visiting the park as a one day excursion from Split. A
Visitors guide with nice photos from Krka
and information about visiting the park you can find
here
The
driving distance between Split and Krka
, is between 80 and 90 km depending on the route.
on the map below
you can see the varius travelling routes.
Travelling by bus from Split to Krka:
Travelling from Split to Krka (Skradin) with a
direct bus in online possible in the peak season, schedule can be found below
If you wish to visit the park by means of public transport outside of the main season you will have to take
bus from Split to Sibenik
and then change to a local bus in Sibenik for the last few km to Skradin.
Timetable for the local bus to Skradin
time table you can find
here
Travel tips Split to National park Krka:
From Split there are plenty of options to go with on an organized trip to Krka, prices are a bit more expensive then travelling on your own, but for that you do not have to worry about changing bus in Sibenik in the offpeak season, another advantage is that
most of the organized tours include guide
and often also a visit to the St James Cathedral in Sibenik (Cathedral is part of UNESCO's list of world cultural heritage)
Excursion program, Krka waterfalls and sibenik
Pick Up between 9.00 am and 9.30 am at arrange meeting point. First stop is on the hill above Trogir with panoramic view of area. Short historical overview of area by professional tour guide.
Scenic drive through the Dalmatia countryside
. Entrance to Krka National Park. Enjoyable stroll with tour guide around main attraction Skradinski buk. Free time for swimming (ca 2 hrs). Visiting Roški slap, the second biggest waterfall. Free time for relaxing, swimming or optional domestic lunch in konoba(ca 2 hrs). On the way back you will see view often seen on
Croatian
tourist brochures - the panorama of Visovac Island.
Visiting the historical palace of Sibenik
and UNESCO cathedral of St James. Return along the coast road, passing picturesque villages and islands to Trogir / Split around 8.00 pm.
Tour facts.
Starting point: hotel or apartment pick up
Starting time:  9.30
Duration: 11h
Prices per person: 390 kn
Guide Languages:  Eng, Ger, Ital
Stuff to Bring for trip: camera, swimming clothes, comfortable shoes
You can reguest a excursion to Krka from Split or Trogir
here
Other means of Transportation:
By car to Krka:
Getting to Krka from Split by car, is quite easy.
1. Option
is too follow the highway from access point in Dugopolje to exit point Skradin, from here there is only a few km to entrance in Skradin.
2 Option
, follow the coastal direction Sibenik, shortly before arrival in Sibenik, there are signs towards Skradin. If you don't have your own car you can rent one in Split
here
. If you are travelling directly from the Airport in Split you can find information about transfers to the national park Krka
here
.
Arrival at national park Krka:
National park
Krka has several entrances
accessible by car;
here you can read
about the different entrances and tours available at Krka
What to bring? 
Sun protection, comfortable walking shoes, swimming clothes, drinking water. If you wish to bring your own food, you may do so, at the lower parts of the park it is possible too enjoy the food in picnic stile.
Staying overnight by Krka:
if you plan to stay by national Krka, the best place to look for accommodation is in Skradin, you can find accommodation in Skradin
here
, as alternative you can look for accommodation in Lozovac
here
.
There are 3 people currently looking how to get from Split (HR) to Skradin (Krka NP) (HR)!
ID
Departure/Arrival
Info
Price
Tickets

Croatia bus-Globtour-Salinea-Jadran ekspres

2692

| Station | Arrival | Departure |
| --- | --- | --- |
| Split, Bus terminal (HR) | | 08:00 |
| Dugopolje, Toll Station (HR) | 08:30 | 08:30 |
| Skradin (Krka NP) (HR) | 09:30 | 09:30 |
| Zagreb, Bus terminal (HR) | 13:10 | |

Operational intervals
01.06. - 31.12.

Saturday
Sunday



Click to see map.

08:00

09:30

| Station | Arrival | Departure |
| --- | --- | --- |
| Split, Bus terminal (HR) | | 08:00 |
| Dugopolje, Toll Station (HR) | 08:30 | 08:30 |
| Skradin (Krka NP) (HR) | 09:30 | 09:30 |
| Zagreb, Bus terminal (HR) | 13:10 | |

Operational intervals
01.06. - 31.12.

Saturday
Sunday



Click to see map.

70

120

371

| Station | Arrival | Departure |
| --- | --- | --- |
| Split, Bus terminal (HR) | | 10:15 |
| Dugopolje, Toll Station (HR) | 10:45 | 10:45 |
| Skradin (Krka NP) (HR) | 11:30 | 11:30 |
| Zadar, Bus terminal (HR) | 12:30 | 13:00 |
| Korenica, 1 (M) > Plitvice Lakes (HR) | 14:30 | 14:30 |
| Plitvice Lakes (HR) | 14:45 | |

Operational intervals
02.05. - 01.11.

Monday
Tuesday
Wednesday
Thursday
Friday
Saturday
Sunday



Click to see map.

10:15

11:30

| Station | Arrival | Departure |
| --- | --- | --- |
| Split, Bus terminal (HR) | | 10:15 |
| Dugopolje, Toll Station (HR) | 10:45 | 10:45 |
| Skradin (Krka NP) (HR) | 11:30 | 11:30 |
| Zadar, Bus terminal (HR) | 12:30 | 13:00 |
| Korenica, 1 (M) > Plitvice Lakes (HR) | 14:30 | 14:30 |
| Plitvice Lakes (HR) | 14:45 | |

Operational intervals
02.05. - 01.11.

Monday
Tuesday
Wednesday
Thursday
Friday
Saturday
Sunday



Click to see map.

78

137

Croatia bus-Globtour-Salinea-Jadran ekspres

2224

| Station | Arrival | Departure |
| --- | --- | --- |
| Dubrovnik, Bus terminal (HR) | | 08:00 |
| Metkovic, Bus terminal (HR) | 09:20 | 09:20 |
| Opuzen (HR) | 09:25 | 09:25 |
| Ploce, Bus terminal (HR) | 09:40 | 09:40 |
| Vrgorac, Bus terminal (HR) | 10:15 | 10:15 |
| Imotski, Bus terminal (HR) | 11:00 | 11:00 |
| Split, Bus terminal (HR) | 12:15 | 12:30 |
| Skradin (Krka NP) (HR) | 13:45 | 13:45 |
| Zadar, Bus terminal (HR) | 14:30 | 14:30 |
| Zagreb, Bus terminal (HR) | 17:15 | |

Operational intervals
01.01. - 31.12.

Monday
Tuesday
Wednesday
Thursday
Friday
Saturday
Sunday



Click to see map.

12:30

13:45

| Station | Arrival | Departure |
| --- | --- | --- |
| Dubrovnik, Bus terminal (HR) | | 08:00 |
| Metkovic, Bus terminal (HR) | 09:20 | 09:20 |
| Opuzen (HR) | 09:25 | 09:25 |
| Ploce, Bus terminal (HR) | 09:40 | 09:40 |
| Vrgorac, Bus terminal (HR) | 10:15 | 10:15 |
| Imotski, Bus terminal (HR) | 11:00 | 11:00 |
| Split, Bus terminal (HR) | 12:15 | 12:30 |
| Skradin (Krka NP) (HR) | 13:45 | 13:45 |
| Zadar, Bus terminal (HR) | 14:30 | 14:30 |
| Zagreb, Bus terminal (HR) | 17:15 | |

Operational intervals
01.01. - 31.12.

Monday
Tuesday
Wednesday
Thursday
Friday
Saturday
Sunday



Click to see map.

70

125

962

| Station | Arrival | Departure |
| --- | --- | --- |
| Split, Bus terminal (HR) | | 15:30 |
| Skradin (Krka NP) (HR) | 17:00 | 17:00 |
| Zadar, Bus terminal (HR) | 17:50 | 18:00 |
| Korenica, 1 (M) > Plitvice Lakes (HR) | 19:15 | 19:15 |
| Plitvice Lakes (HR) | 19:30 | |

Operational intervals
01.06. - 01.11.

Monday
Tuesday
Wednesday
Thursday
Friday
Saturday
Sunday



Click to see map.

15:30

17:00

| Station | Arrival | Departure |
| --- | --- | --- |
| Split, Bus terminal (HR) | | 15:30 |
| Skradin (Krka NP) (HR) | 17:00 | 17:00 |
| Zadar, Bus terminal (HR) | 17:50 | 18:00 |
| Korenica, 1 (M) > Plitvice Lakes (HR) | 19:15 | 19:15 |
| Plitvice Lakes (HR) | 19:30 | |

Operational intervals
01.06. - 01.11.

Monday
Tuesday
Wednesday
Thursday
Friday
Saturday
Sunday



Click to see map.

78

125

Croatia bus-Globtour-Salinea-Jadran ekspres

2252

| Station | Arrival | Departure |
| --- | --- | --- |
| Dubrovnik, Bus terminal (HR) | | 12:30 |
| Metkovic, Bus terminal (HR) | 14:10 | 14:10 |
| Ploce, Bus terminal (HR) | 14:25 | 14:25 |
| Vrgorac, Bus terminal (HR) | 15:00 | 15:00 |
| Dugopolje, Toll Station (HR) | 16:15 | 16:15 |
| Split, Bus terminal (HR) | 16:30 | 16:55 |
| Skradin (Krka NP) (HR) | 18:30 | 18:30 |
| Zadar, Bus terminal (HR) | 19:30 | 19:30 |
| Zagreb, Bus terminal (HR) | 22:00 | |

Operational intervals
01.01. - 31.12.

Monday
Tuesday
Wednesday
Thursday
Friday
Saturday
Sunday



Click to see map.

16:55

18:30

| Station | Arrival | Departure |
| --- | --- | --- |
| Dubrovnik, Bus terminal (HR) | | 12:30 |
| Metkovic, Bus terminal (HR) | 14:10 | 14:10 |
| Ploce, Bus terminal (HR) | 14:25 | 14:25 |
| Vrgorac, Bus terminal (HR) | 15:00 | 15:00 |
| Dugopolje, Toll Station (HR) | 16:15 | 16:15 |
| Split, Bus terminal (HR) | 16:30 | 16:55 |
| Skradin (Krka NP) (HR) | 18:30 | 18:30 |
| Zadar, Bus terminal (HR) | 19:30 | 19:30 |
| Zagreb, Bus terminal (HR) | 22:00 | |

Operational intervals
01.01. - 31.12.

Monday
Tuesday
Wednesday
Thursday
Friday
Saturday
Sunday



Click to see map.

70

125
Map - Shortest route