Zadar to National park Plitvice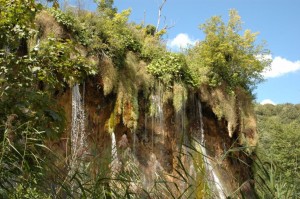 A visit at the
National park Plitvicer Lakes
, is highly recommend for any Croatia visitor, from Zadar there is about 135 km following the shortest road via Udbina. From the
Zadar Airport there is about 130 km
to the National park. You can find
more information about National Park Plitvice
here
.
Travelling by bus from Zadar to Plitvice Lakes:
There are a handful of
direct bus connections between Zadar and the Plitvice Lakes
, and it is possible to use public transport for a daytrip from Zadar to Plitvice lakes, you can see the current bus schedule below. (
Buses from Plitvice to Zadar can be found here
) Alternative routes via other cities are not available, so only other bus option is to
join a organized day trip from Zadar
.
Accommodation by Plitvice Lakes:
By the park entrances there are several hotels, offering various packaged including visit to the Park.
Private accommodation
can be found in all the small cities in the surrounding area,
special tip
is a place called
San Korana
which is about 6 km from the National park, in San Korana you have a beautiful nature whit lots of small waterfalls, if you get up early in the morning
you might be lucky to see a bear
, eating from the corn fields.
| | | |
| --- | --- | --- |
| Plitvice | Plitvice | Plitvice |
Other means of Transportation:
By Car:
Driving from Zadar to Plitvice
by car takes about 2 hours
, which makes is possible to do a daytrip to Plitvice, with an early departure from Zadar you should be able to see most of the park in a day. If you don't have your own car, you can
rent one in Zadar
here
.
Transfer:
If you are travelling directly from the airport in Zadar you can also choose the option of a transfer (driver included). More information about the cars and prices you can find
here
.
ID
Departure/Arrival
Info
Price
Tickets

Croatia bus-Globtour-Salinea-Jadran ekspres

79

| Station | Arrival | Departure |
| --- | --- | --- |
| Zadar, Bus terminal | | 14:30 |
| Policnik, Towards ->Posedarje | 14:45 | 14:45 |
| Posedarje | 14:54 | 14:54 |
| Korenica, 1 (M) > Plitvice Lakes | 16:10 | 16:10 |
| Plitvice Lakes | 16:45 | 16:45 |
| Rakovica | 17:00 | 17:00 |
| Slušnica | 17:10 | 17:10 |
| Slunj | 17:25 | 17:25 |
| Hrvatski Blagaj | 17:32 | 17:32 |
| Veljun | 17:39 | 17:39 |
| Krnjak | 17:53 | 17:53 |
| Tusilovic | 17:56 | 17:56 |
| Karlovac, Bus terminal | 18:15 | 18:15 |
| Zagreb, Bus terminal | 19:00 | |

Operational intervals
01.01. - 31.12.

Monday
Tuesday
Wednesday
Thursday
Friday
Saturday
Sunday



Click to see map.

14:30

16:45

| Station | Arrival | Departure |
| --- | --- | --- |
| Zadar, Bus terminal | | 14:30 |
| Policnik, Towards ->Posedarje | 14:45 | 14:45 |
| Posedarje | 14:54 | 14:54 |
| Korenica, 1 (M) > Plitvice Lakes | 16:10 | 16:10 |
| Plitvice Lakes | 16:45 | 16:45 |
| Rakovica | 17:00 | 17:00 |
| Slušnica | 17:10 | 17:10 |
| Slunj | 17:25 | 17:25 |
| Hrvatski Blagaj | 17:32 | 17:32 |
| Veljun | 17:39 | 17:39 |
| Krnjak | 17:53 | 17:53 |
| Tusilovic | 17:56 | 17:56 |
| Karlovac, Bus terminal | 18:15 | 18:15 |
| Zagreb, Bus terminal | 19:00 | |

Operational intervals
01.01. - 31.12.

Monday
Tuesday
Wednesday
Thursday
Friday
Saturday
Sunday



Click to see map.

85

170

Autobusni prijevoz Varaždin d.o.o.

86

| Station | Arrival | Departure |
| --- | --- | --- |
| Split, Bus terminal | | 12:00 |
| Trogir, Bus terminal | 12:35 | 12:35 |
| Marina | 12:50 | 12:50 |
| Rogoznica Mag. | 13:00 | 13:00 |
| Primosten, Primošten Center OUT | 13:10 | 13:10 |
| Sibenik, Bus terminal | 13:40 | 13:45 |
| Vodice, Bus terminal | 14:05 | 14:05 |
| Pirovac | 14:15 | 14:15 |
| Biograd mag. | 14:40 | 14:40 |
| Sukosan | 14:50 | 14:50 |
| Zadar, Bus terminal | 15:05 | 15:10 |
| Posedarje | 15:30 | 15:30 |
| Obrovac | 16:00 | 16:00 |
| Gracac, Bus terminal | 16:30 | 16:30 |
| Korenica, 1 (M) > Plitvice Lakes | 17:25 | 17:25 |
| Borje Motel | 17:30 | 17:40 |
| Plitvice Lakes | 17:50 | 17:50 |
| Slunj | 18:20 | 18:20 |
| Karlovac, Bus terminal | 19:30 | 19:30 |
| Zagreb, Bus terminal | 20:20 | 20:30 |
| Novi Marof, Bus terminal | 21:30 | 21:30 |
| Varazdin, Bus terminal | 21:55 | |

Operational intervals
01.01. - 31.12.

Monday
Tuesday
Wednesday
Thursday
Friday
Saturday
Sunday



Click to see map.

15:10

17:50

| Station | Arrival | Departure |
| --- | --- | --- |
| Split, Bus terminal | | 12:00 |
| Trogir, Bus terminal | 12:35 | 12:35 |
| Marina | 12:50 | 12:50 |
| Rogoznica Mag. | 13:00 | 13:00 |
| Primosten, Primošten Center OUT | 13:10 | 13:10 |
| Sibenik, Bus terminal | 13:40 | 13:45 |
| Vodice, Bus terminal | 14:05 | 14:05 |
| Pirovac | 14:15 | 14:15 |
| Biograd mag. | 14:40 | 14:40 |
| Sukosan | 14:50 | 14:50 |
| Zadar, Bus terminal | 15:05 | 15:10 |
| Posedarje | 15:30 | 15:30 |
| Obrovac | 16:00 | 16:00 |
| Gracac, Bus terminal | 16:30 | 16:30 |
| Korenica, 1 (M) > Plitvice Lakes | 17:25 | 17:25 |
| Borje Motel | 17:30 | 17:40 |
| Plitvice Lakes | 17:50 | 17:50 |
| Slunj | 18:20 | 18:20 |
| Karlovac, Bus terminal | 19:30 | 19:30 |
| Zagreb, Bus terminal | 20:20 | 20:30 |
| Novi Marof, Bus terminal | 21:30 | 21:30 |
| Varazdin, Bus terminal | 21:55 | |

Operational intervals
01.01. - 31.12.

Monday
Tuesday
Wednesday
Thursday
Friday
Saturday
Sunday



Click to see map.

91

137

APZ Imotski-Autoherc d.o.o

Arriva - Panturist

6474

| Station | Arrival | Departure |
| --- | --- | --- |
| Imotski, Bus terminal | | 18:00 |
| Cista Provo | 18:45 | 18:45 |
| Trilj | 19:05 | 19:05 |
| Sinj, Bus terminal | 19:20 | 19:20 |
| Split, Bus terminal | 19:45 | 20:15 |
| Trogir, Bus terminal | 20:45 | 20:45 |
| Sibenik, Bus terminal | 21:45 | 21:45 |
| Biograd na Moru, Bus terminal | 22:45 | 22:45 |
| Zadar, Bus terminal | 23:00 | 23:00 |
| Korenica, 1 (M) > Plitvice Lakes | 01:35 | 01:35 |
| Plitvice Lakes | 01:50 | 01:50 |
| Slunj | 02:10 | 02:10 |
| Karlovac, Bus terminal | 03:00 | 03:00 |
| Slavonski Brod, Bus terminal | 05:45 | 05:45 |
| Velika Kopanica | 06:30 | 06:30 |
| Vrpolje | 06:40 | 06:40 |
| Dakovo, Bus terminal | 06:50 | 06:50 |
| Osijek, Bus terminal | 07:30 | |

Operational intervals
01.01. - 31.12.

Monday
Tuesday
Wednesday
Thursday
Friday
Saturday
Sunday



Click to see map.

23:00

01:50

| Station | Arrival | Departure |
| --- | --- | --- |
| Imotski, Bus terminal | | 18:00 |
| Cista Provo | 18:45 | 18:45 |
| Trilj | 19:05 | 19:05 |
| Sinj, Bus terminal | 19:20 | 19:20 |
| Split, Bus terminal | 19:45 | 20:15 |
| Trogir, Bus terminal | 20:45 | 20:45 |
| Sibenik, Bus terminal | 21:45 | 21:45 |
| Biograd na Moru, Bus terminal | 22:45 | 22:45 |
| Zadar, Bus terminal | 23:00 | 23:00 |
| Korenica, 1 (M) > Plitvice Lakes | 01:35 | 01:35 |
| Plitvice Lakes | 01:50 | 01:50 |
| Slunj | 02:10 | 02:10 |
| Karlovac, Bus terminal | 03:00 | 03:00 |
| Slavonski Brod, Bus terminal | 05:45 | 05:45 |
| Velika Kopanica | 06:30 | 06:30 |
| Vrpolje | 06:40 | 06:40 |
| Dakovo, Bus terminal | 06:50 | 06:50 |
| Osijek, Bus terminal | 07:30 | |

Operational intervals
01.01. - 31.12.

Monday
Tuesday
Wednesday
Thursday
Friday
Saturday
Sunday



Click to see map.

94

142

APZ Imotski-Autoherc d.o.o

Arriva - Panturist

155

| Station | Arrival | Departure |
| --- | --- | --- |
| Imotski, Bus terminal | | 18:00 |
| Cista Provo | 18:45 | 18:45 |
| Trilj | 19:05 | 19:05 |
| Sinj, Bus terminal | 19:20 | 19:20 |
| Split, Bus terminal | 19:45 | 20:15 |
| Trogir, Bus terminal | 20:45 | 20:45 |
| Sibenik, Bus terminal | 21:45 | 21:45 |
| Biograd na Moru, Bus terminal | 22:45 | 22:45 |
| Zadar, Bus terminal | 23:00 | 23:00 |
| Korenica, 1 (M) > Plitvice Lakes | 01:35 | 01:35 |
| Plitvice Lakes | 01:50 | 01:50 |
| Slunj | 02:10 | 02:10 |
| Karlovac, Bus terminal | 03:00 | 03:00 |
| Slavonski Brod, Bus terminal | 05:45 | 05:45 |
| Velika Kopanica | 06:30 | 06:30 |
| Vrpolje | 06:40 | 06:40 |
| Dakovo, Bus terminal | 06:50 | 06:50 |
| Osijek, Bus terminal | 07:30 | |

Operational intervals
30.11. - 31.12.
01.01. - 31.01.

Monday
Tuesday
Wednesday
Thursday
Friday
Saturday
Sunday



Click to see map.

23:00

01:50

| Station | Arrival | Departure |
| --- | --- | --- |
| Imotski, Bus terminal | | 18:00 |
| Cista Provo | 18:45 | 18:45 |
| Trilj | 19:05 | 19:05 |
| Sinj, Bus terminal | 19:20 | 19:20 |
| Split, Bus terminal | 19:45 | 20:15 |
| Trogir, Bus terminal | 20:45 | 20:45 |
| Sibenik, Bus terminal | 21:45 | 21:45 |
| Biograd na Moru, Bus terminal | 22:45 | 22:45 |
| Zadar, Bus terminal | 23:00 | 23:00 |
| Korenica, 1 (M) > Plitvice Lakes | 01:35 | 01:35 |
| Plitvice Lakes | 01:50 | 01:50 |
| Slunj | 02:10 | 02:10 |
| Karlovac, Bus terminal | 03:00 | 03:00 |
| Slavonski Brod, Bus terminal | 05:45 | 05:45 |
| Velika Kopanica | 06:30 | 06:30 |
| Vrpolje | 06:40 | 06:40 |
| Dakovo, Bus terminal | 06:50 | 06:50 |
| Osijek, Bus terminal | 07:30 | |

Operational intervals
30.11. - 31.12.
01.01. - 31.01.

Monday
Tuesday
Wednesday
Thursday
Friday
Saturday
Sunday



Click to see map.

94

150