Zadar to National park Krka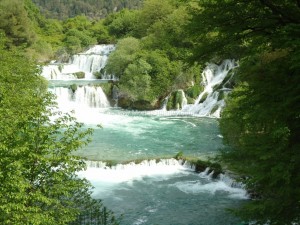 National Park Krka is situated about 80 km from Zadar, which makes it an
obvious destination for a day trip
and a great alternative to visiting National park Plitvice, which is required considerable more travelling time.
Travelling by bus from Zadar to Krka:
In the peak season there is direct buses from Zadar to National park Krka
,
timetable can be found below
, Outside of the the peak season best way to get from Zadar to Krka, is
first to travel to Sibenik
and then change to a bus with destination Skradin or Lozovac, bus schedule for buses between Zadar and Sibenik you can find
here
. The departure times of the local bus from Sibenik to Skradin (and from Skradin to Sibenik) you can find
here
. The
fasted route from Zadar to National Park Krka
goes via the highway, unfortunately buses travelling on this route, does not stop in Skradin by Krka. In some forums it has been stated, that some of the bus drivers would be kind to let you out by the Skradin exit, but this is not a official and legal act, so we strongly recommend ignoring that option.
Accommodation in Skradin or Lozovac
: Not few people have been
surprised by the beauty of the area around the national park
, especially Skradin is a perfect spot to spend a night or two. As the accommodation offer in Skradin is fairly limited it is advisable to book ahead, especially in the main season.
A selection of apartments and hotels in Skradin
you can find
here
. As alternative place for accommodation you can check out units in Lozovac
here
.
Other means of Transportation:
By Car:
If you are driving with car to national park Krka, we can recommend you take the
coastal route from Zadar to Sibenik
, not only do you save the toll fees on the motorway, you also get to see the beautiful coastal line. The driving time is about 1 hour 15 minutes, which is about 15 minutes more then driving time on the route following the motorway. If you don't have your own car, you can rent one
here
.
Transfer:
If you are travelling directly from the airport in Zadar you can also choose the option of a transfer (driver included). More information about the cars and prices you can find
here
.
Arrival at National park Krka
: If you arrive at Krka with the car, you have
option to choose between 5 entrances
, Lozovac, Skradin Ruški Slap, Burnum and Kistanje. The "main" entrances are the one in Skradin and Lozovac. You can find more information about the national park Krka here.
ID
Departure/Arrival
Info
Price
Tickets

Croatia bus-Globtour-Salinea-Jadran ekspres

4357

| Station | Arrival | Departure |
| --- | --- | --- |
| Zadar, Bus terminal | | 10:15 |
| Skradin (Krka NP) | 11:20 | 11:20 |
| Drnis, Bus terminal | 11:55 | 11:55 |
| Knin, Bus terminal | 12:15 | |

Operational intervals
01.01. - 31.12.

Monday
Tuesday
Wednesday
Thursday
Friday
Saturday
Sunday



Click to see map.

10:15

11:20

| Station | Arrival | Departure |
| --- | --- | --- |
| Zadar, Bus terminal | | 10:15 |
| Skradin (Krka NP) | 11:20 | 11:20 |
| Drnis, Bus terminal | 11:55 | 11:55 |
| Knin, Bus terminal | 12:15 | |

Operational intervals
01.01. - 31.12.

Monday
Tuesday
Wednesday
Thursday
Friday
Saturday
Sunday



Click to see map.

70

125

Croatia bus-Globtour-Salinea-Jadran ekspres

2219

| Station | Arrival | Departure |
| --- | --- | --- |
| Zadar, Bus terminal | | 13:00 |
| Skradin (Krka NP) | 14:00 | 14:00 |
| Dugopolje, Toll Station | 15:10 | 15:10 |
| Split, Bus terminal | 15:30 | 15:45 |
| Imotski, Bus terminal | 17:00 | 17:00 |
| Vrgorac, Bus terminal | 17:15 | 17:15 |
| Ploce, Bus terminal | 17:50 | 17:50 |
| Metkovic, Bus terminal | 18:20 | 18:20 |
| Dubrovnik, Bus terminal | 19:30 | |

Operational intervals
01.01. - 31.12.

Monday
Tuesday
Wednesday
Thursday
Friday
Saturday
Sunday



Click to see map.

13:00

14:00

| Station | Arrival | Departure |
| --- | --- | --- |
| Zadar, Bus terminal | | 13:00 |
| Skradin (Krka NP) | 14:00 | 14:00 |
| Dugopolje, Toll Station | 15:10 | 15:10 |
| Split, Bus terminal | 15:30 | 15:45 |
| Imotski, Bus terminal | 17:00 | 17:00 |
| Vrgorac, Bus terminal | 17:15 | 17:15 |
| Ploce, Bus terminal | 17:50 | 17:50 |
| Metkovic, Bus terminal | 18:20 | 18:20 |
| Dubrovnik, Bus terminal | 19:30 | |

Operational intervals
01.01. - 31.12.

Monday
Tuesday
Wednesday
Thursday
Friday
Saturday
Sunday



Click to see map.

70

125

Croatia bus-Globtour-Salinea-Jadran ekspres

3197

| Station | Arrival | Departure |
| --- | --- | --- |
| Zadar, Bus terminal | | 19:30 |
| Skradin (Krka NP) | 20:55 | 20:55 |
| Dugopolje, Toll Station | 21:05 | 21:05 |
| Sinj, Bus terminal | 21:15 | 21:15 |
| Vrgorac, Bus terminal | 22:00 | 22:00 |
| Imotski, Bus terminal | 22:15 | 22:15 |
| Ploce, Bus terminal | 22:30 | 22:30 |
| Opuzen | 22:50 | 22:50 |
| Metkovic, Bus terminal | 23:00 | 23:00 |
| Dubrovnik, Bus terminal | 00:15 | |

Operational intervals
01.01. - 31.12.

Monday
Tuesday
Wednesday
Thursday
Friday
Saturday
Sunday



Click to see map.

19:30

20:55

| Station | Arrival | Departure |
| --- | --- | --- |
| Zadar, Bus terminal | | 19:30 |
| Skradin (Krka NP) | 20:55 | 20:55 |
| Dugopolje, Toll Station | 21:05 | 21:05 |
| Sinj, Bus terminal | 21:15 | 21:15 |
| Vrgorac, Bus terminal | 22:00 | 22:00 |
| Imotski, Bus terminal | 22:15 | 22:15 |
| Ploce, Bus terminal | 22:30 | 22:30 |
| Opuzen | 22:50 | 22:50 |
| Metkovic, Bus terminal | 23:00 | 23:00 |
| Dubrovnik, Bus terminal | 00:15 | |

Operational intervals
01.01. - 31.12.

Monday
Tuesday
Wednesday
Thursday
Friday
Saturday
Sunday



Click to see map.

70

125