Rovinj
The bus station in Rovinj is situated on the south side of the city centre less then 100 meters from the seaside promenade and within walking distance of the old town peninsula, which is less then 1 km from the bus station. Also, hotels like Hotel Park, Hotel Eden and several other large hotels, that are situated south of the city centre, can easily be reached by foot from the bus station. (See map of bus station placement below)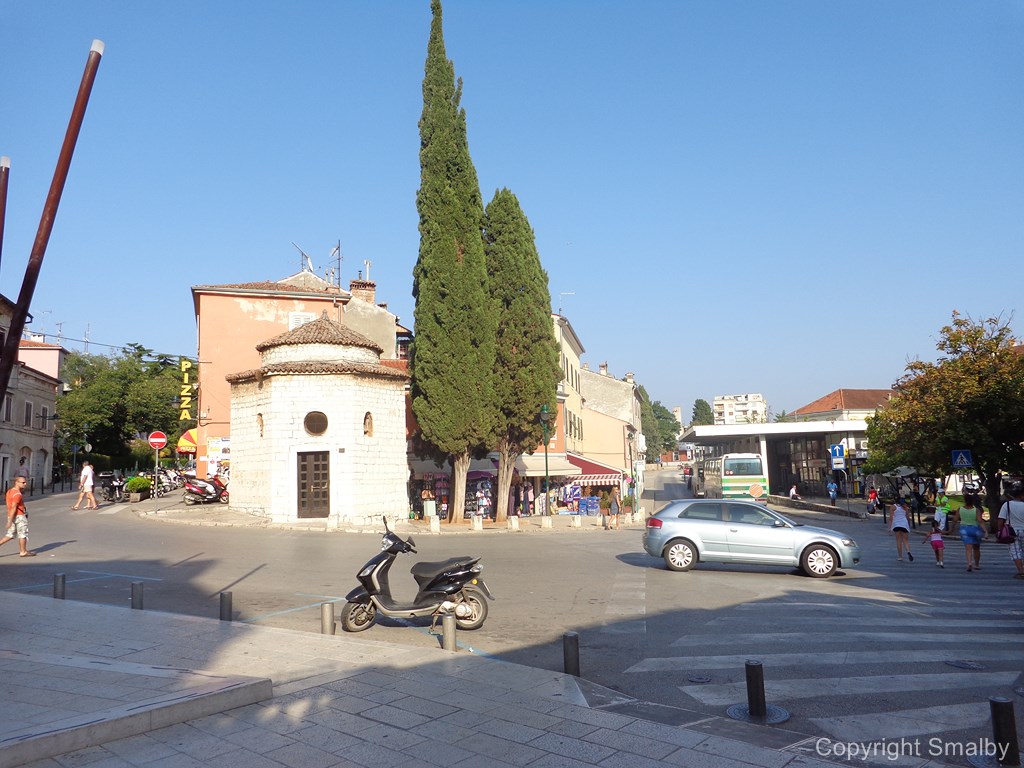 Services at the bus station in Rovinj
At the bus terminal,
you will obviously find a ticket office
which is open from the early morning hours till about 21- 22 in the evening during the main season. In the terminal building there is also a kiosk, a coffee bar and a few other shops.
Luggage storage is possible at the bus station
. In front of the bus station there is a taxi stand. Less then 50 meters from the bus station you will find the start of the Carrera Street,
which is the main shopping street in Rovinj
. On this street there are also several coffee bars and fast food restaurants.
Accommodation by the bus station in Rovinj
Finding accommodation within walking distance of the bus station in Rovinj is really not a problem. As mentioned above, several of the larger hotels are situated just south of the bus station. If you prefer to stay at a hostel or in a private apartment, you should look for accommodation units situated in the following city parts / neighbourhoods,
Karmelo, Lamanova, Sv. Vid, Valbruna, Stari Grad, Centener
. These parts of the town are within a 0-1.5 km range of the bus station. Here you can check availability of various types of accommodation in Rovinj:
Rent a car Rovinj
If you need a rented car to get to your final destination in the Rovinj area, you can rent one in the city centre where you have several agencies.
You can see the current car rental offers from Rovinj here
:
Day trips by bus from Rovinj
The most suitable destination for a
day trip with bus from Rovinj is Porec, Pula, Umag, Novigrad, Motovun and Groznjan
. Popular day trip destinations like Plitvice, Postojna caves and Venice can not be done as a self organized bus daytrip; for these destinations the
best option is an organized excursion
by one of the local travel agencies.
A list of excursions available from Rovinj you can find here
.
Most popular bus routes from Rovinj
From Rovinj you have
fairly frequent connections to the larger Istrian cities
as well as to Rijeka and Zagreb. For destinations further a way like e.g. Dubrovnik you have a limited number of direction connections, but more travel options if you travel via Rijeka.
Direct
international connections are limited
, but you have buses to e.g. Trieste, Frankfurt and Belgrade. Click on the routes in the table to see the schedule for the most popular routes from Rovinj...
Address of bus station in Rovinj
Ul. Mattea Benussia
52210 Rovinj
Tel: +385 52 811 453