Zadar to National park Plitvice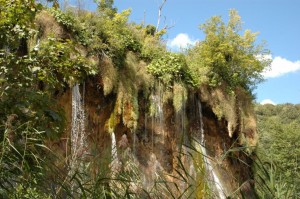 A visit at the
National park Plitvicer Lakes
, is highly recommend for any Croatia visitor, from Zadar there is about 135 km following the shortest road via Udbina. From the
Zadar Airport there is about 130 km
to the National park. You can find
more information about National Park Plitvice
here
.
Travelling by bus from Zadar to Plitvice Lakes:
There are a handful of
direct bus connections between Zadar and the Plitvice Lakes
, and it is possible to use public transport for a daytrip from Zadar to Plitvice lakes, you can see the current bus schedule below. (
Buses from Plitvice to Zadar can be found here
) Alternative routes via other cities are not available, so only other bus option is to
join a organized day trip from Zadar
.
Accommodation by Plitvice Lakes:
By the park entrances there are several hotels, offering various packaged including visit to the Park.
Private accommodation
can be found in all the small cities in the surrounding area,
special tip
is a place called
San Korana
which is about 6 km from the National park, in San Korana you have a beautiful nature whit lots of small waterfalls, if you get up early in the morning
you might be lucky to see a bear
, eating from the corn fields.
| | | |
| --- | --- | --- |
| Plitvice | Plitvice | Plitvice |
Other means of Transportation:
By Car:
Driving from Zadar to Plitvice
by car takes about 2 hours
, which makes is possible to do a daytrip to Plitvice, with an early departure from Zadar you should be able to see most of the park in a day. If you don't have your own car, you can
rent one in Zadar
here
.
Transfer:
If you are travelling directly from the airport in Zadar you can also choose the option of a transfer (driver included). More information about the cars and prices you can find
here
.
Unfortunately
we did not find any direct routes between and in our database!

Here is what to do:
:
Try to search for a bus between:

and Rijeka and then from Rijeka to
and Zagreb and then from Zagreb to
and Zadar and then from Zadar to
and Split and then from Split to

If neither of these travel combinations gives you a travel options matching your itinerary, you should consider using other means of transportation; Rent a Car would probably be the best option.
If you are travelling to or from an airport in Croatia, you will have to travel to the nearest larger city and then change bus there to reach your final destination.
If you are travelling to one of the larger tourist attractions like e.g. national park Plitvice lakes, you have the option to join an organized bus excursion more about here..