Umag
The bus station in Umag is situated by the entrance to the town which is about 1 km from the old town and the city centre. The ACI Marina is about 2 km from the bus station, and the major Hotel area in Umag is about 2-4 km from Bus station. (See map below for more details on the location)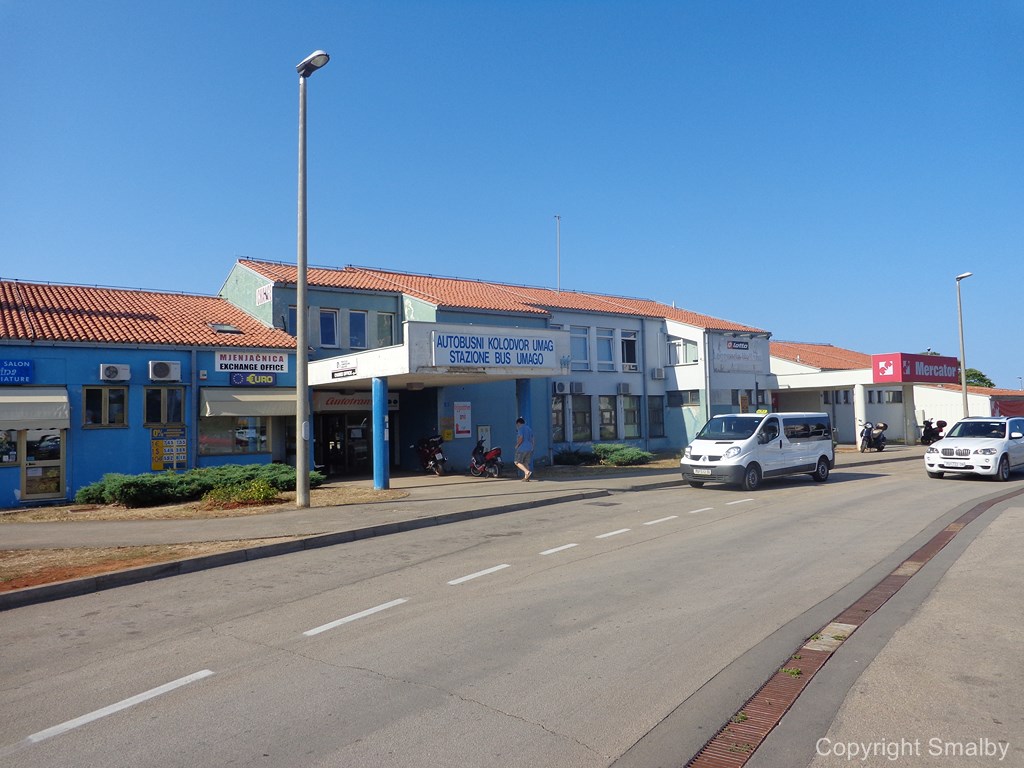 Services at the bus station in Umag
It the bus terminal building, you can obviously find a
bus ticket office and a waiting room where also luggage storage is available
. In the other part of the terminal, there is a coffee bar, an exchange office as well as a Mercator supermarket. Taxi can usually be found on the front side of the building.
Accommodation by the bus station in Umag
As mentioned above, the
bus station is situated at the outskirts of the town
, which means there are not many accommodation options in the neighbourhood of the bus station. The
best option in walk distance is the town centre
where you can find mainly hostels and apartments.
Day trips with bus from Umag
From Umag you can easily arrange a
day trip by bus to the following cities: Triste, Novigrad, Rovinj, Pula, Porec
, Motovun and Groznjan. If you wish to visit popular destinations like Venice, Plitvice lakes or the Postojna cave in Slovenia, you will have to join an
organized excursion from a local travel agency
. A list of possible excursions and
daytrips from Umag you can find here
.
Most popular routes from Umag
From Umag
there is a fair amount of daily bus connections
to the major Istrian cities and also to Trieste in Italy. Also to larger cities like Rijeka and Zagreb there are several daily departures.
If you have to travel to destinations further away like e.g. Split
, you have more connection options if you travel via Rijeka. Click on the routes in this table to
see timetable and travel information
for the most popular bus routes from Umag.
Map with location of bus station in Umag
Address of bus station in Umag.
Joakima Rakovca bb 52470 Umag Tel: +385 52 741 817