Porec to Rovinj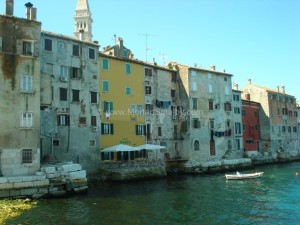 The
road distance between Porec and Rovinj
is 35 kilometers and the trip lasts about 45 minutes. The local road passes by the Lim channel (or fjord) which is a very important tourist attraction in Istria. The
local road between Porec and Rovinj has many curves
so there are big jams during summers. So if you're in a crowd, you also have the option to
take a detour that includes part of the Istrian highway
. If you decide to take the highway, the entrance is at junction Baderna while the exit is Kanfanar. A toll for personal vehicles on this route is 9 kn.
Bus travel between Porec and Rovinj:
Bus connection between Porec and Rovinj is very good. There are
several bus operators
and during the season the departures between the two cities are increased. A
detailed scheduled of buses between Porec and Rovinj
can be seen below. Tickets for the bus can be bought online here (click on the BUY NOW button) or at the
bus station in Porec.
ID
Departure/Arrival
Info
Price
Tickets

2336

| Station | Arrival | Departure |
| --- | --- | --- |
| Trieste, Bus terminal | | 08:45 |
| Rabuiese, Border | 09:22 | 09:22 |
| Skofije, Skofije Border | 09:23 | 09:23 |
| Koper, Bus terminal | 09:34 | 09:34 |
| Kastel, Kastel Border | 09:51 | 09:51 |
| Plovanija, Border | 09:52 | 09:52 |
| Umag, Bus terminal | 10:15 | 10:15 |
| Novigrad, Bus terminal | 10:35 | 10:35 |
| Porec, Bus terminal | 11:10 | 11:10 |
| Rovinj, Bus terminal | 12:00 | 12:00 |
| Pula, Bus terminal | 12:50 | 12:50 |
| Rijeka, Bus terminal | 14:20 | 14:20 |
| Zagreb, Bus terminal | 16:15 | |

Operational intervals
01.01. - 31.12.

Monday
Tuesday
Wednesday
Thursday
Friday
Saturday
Sunday



Click to see map.

11:10

12:00

| Station | Arrival | Departure |
| --- | --- | --- |
| Trieste, Bus terminal | | 08:45 |
| Rabuiese, Border | 09:22 | 09:22 |
| Skofije, Skofije Border | 09:23 | 09:23 |
| Koper, Bus terminal | 09:34 | 09:34 |
| Kastel, Kastel Border | 09:51 | 09:51 |
| Plovanija, Border | 09:52 | 09:52 |
| Umag, Bus terminal | 10:15 | 10:15 |
| Novigrad, Bus terminal | 10:35 | 10:35 |
| Porec, Bus terminal | 11:10 | 11:10 |
| Rovinj, Bus terminal | 12:00 | 12:00 |
| Pula, Bus terminal | 12:50 | 12:50 |
| Rijeka, Bus terminal | 14:20 | 14:20 |
| Zagreb, Bus terminal | 16:15 | |

Operational intervals
01.01. - 31.12.

Monday
Tuesday
Wednesday
Thursday
Friday
Saturday
Sunday



Click to see map.

35

53

Autobusni prijevoz Varaždin d.o.o.

135

| Station | Arrival | Departure |
| --- | --- | --- |
| Porec, Bus terminal | | 15:10 |
| Vrsar, Bus terminal | 15:30 | 15:30 |
| Rovinj, Bus terminal | 16:00 | 16:00 |
| Pula, Bus terminal | 16:45 | 16:50 |
| Labin, Bus terminal | 17:45 | 17:45 |
| Opatija, Bus terminal | 18:50 | 18:50 |
| Rijeka, Bus terminal | 19:10 | 19:30 |
| Karlovac, Bus terminal | 21:10 | 21:10 |
| Zagreb, Bus terminal | 22:00 | 22:10 |
| St. Ivan Zelina | 22:45 | 22:45 |
| Breznica | 23:00 | 23:00 |
| Breznicki Hum | 23:10 | 23:10 |
| Novi Marof, Bus terminal | 23:30 | 23:30 |
| Varazdin, Bus terminal | 23:40 | |

Operational intervals
01.01. - 31.12.

Monday
Tuesday
Wednesday
Thursday
Friday
Saturday
Sunday



Click to see map.

15:10

16:00

| Station | Arrival | Departure |
| --- | --- | --- |
| Porec, Bus terminal | | 15:10 |
| Vrsar, Bus terminal | 15:30 | 15:30 |
| Rovinj, Bus terminal | 16:00 | 16:00 |
| Pula, Bus terminal | 16:45 | 16:50 |
| Labin, Bus terminal | 17:45 | 17:45 |
| Opatija, Bus terminal | 18:50 | 18:50 |
| Rijeka, Bus terminal | 19:10 | 19:30 |
| Karlovac, Bus terminal | 21:10 | 21:10 |
| Zagreb, Bus terminal | 22:00 | 22:10 |
| St. Ivan Zelina | 22:45 | 22:45 |
| Breznica | 23:00 | 23:00 |
| Breznicki Hum | 23:10 | 23:10 |
| Novi Marof, Bus terminal | 23:30 | 23:30 |
| Varazdin, Bus terminal | 23:40 | |

Operational intervals
01.01. - 31.12.

Monday
Tuesday
Wednesday
Thursday
Friday
Saturday
Sunday



Click to see map.

29

44

2338

| Station | Arrival | Departure |
| --- | --- | --- |
| Trieste, Bus terminal | | 17:45 |
| Skofije, Skofije Border | 18:15 | 18:15 |
| Koper, Bus terminal | 18:34 | 18:34 |
| Kastel, Kastel Border | 18:52 | 18:52 |
| Plovanija, Border | 18:55 | 18:55 |
| Umag, Bus terminal | 19:15 | 19:15 |
| Novigrad, Bus terminal | 19:35 | 19:35 |
| Porec, Bus terminal | 20:00 | 20:00 |
| Rovinj, Bus terminal | 20:40 | 20:40 |
| Pula, Bus terminal | 21:15 | |

Operational intervals
01.01. - 31.12.

Monday
Tuesday
Wednesday
Thursday
Friday
Saturday
Sunday



Click to see map.

20:00

20:40

| Station | Arrival | Departure |
| --- | --- | --- |
| Trieste, Bus terminal | | 17:45 |
| Skofije, Skofije Border | 18:15 | 18:15 |
| Koper, Bus terminal | 18:34 | 18:34 |
| Kastel, Kastel Border | 18:52 | 18:52 |
| Plovanija, Border | 18:55 | 18:55 |
| Umag, Bus terminal | 19:15 | 19:15 |
| Novigrad, Bus terminal | 19:35 | 19:35 |
| Porec, Bus terminal | 20:00 | 20:00 |
| Rovinj, Bus terminal | 20:40 | 20:40 |
| Pula, Bus terminal | 21:15 | |

Operational intervals
01.01. - 31.12.

Monday
Tuesday
Wednesday
Thursday
Friday
Saturday
Sunday



Click to see map.

32

48

5316

| Station | Arrival | Departure |
| --- | --- | --- |
| Pozega, Bus terminal | | 14:15 |
| Nova Gradiska, Bus terminal | 15:05 | 15:05 |
| Novska | 15:45 | 15:45 |
| Zagreb, Bus terminal | 17:15 | 17:30 |
| Rijeka, Bus terminal | 19:45 | 19:50 |
| Porec, Bus terminal | 21:20 | 21:20 |
| Rovinj, Bus terminal | 21:55 | 21:55 |
| Pula, Bus terminal | 22:35 | |

Operational intervals
01.01. - 31.12.

Monday
Tuesday
Wednesday
Thursday
Friday
Saturday
Sunday



Click to see map.

21:20

21:55

| Station | Arrival | Departure |
| --- | --- | --- |
| Pozega, Bus terminal | | 14:15 |
| Nova Gradiska, Bus terminal | 15:05 | 15:05 |
| Novska | 15:45 | 15:45 |
| Zagreb, Bus terminal | 17:15 | 17:30 |
| Rijeka, Bus terminal | 19:45 | 19:50 |
| Porec, Bus terminal | 21:20 | 21:20 |
| Rovinj, Bus terminal | 21:55 | 21:55 |
| Pula, Bus terminal | 22:35 | |

Operational intervals
01.01. - 31.12.

Monday
Tuesday
Wednesday
Thursday
Friday
Saturday
Sunday



Click to see map.

40

60

6232

| Station | Arrival | Departure |
| --- | --- | --- |
| Osijek, Bus terminal | | 13:30 |
| Dakovo, Bus terminal | 14:10 | 14:15 |
| Slavonski Brod, Bus terminal | 15:00 | 15:10 |
| Nova Gradiska, Bus terminal | 16:00 | 16:00 |
| Zagreb, Bus terminal | 17:45 | 18:00 |
| Karlovac, Bus terminal | 18:55 | 18:55 |
| Delnice, Bus terminal | 19:55 | 19:55 |
| Rijeka, Bus terminal | 20:40 | 20:45 |
| Porec, Bus terminal | 22:00 | 22:00 |
| Rovinj, Bus terminal | 22:45 | 22:45 |
| Pula, Bus terminal | 23:30 | |

Operational intervals
01.01. - 31.12.

Monday
Tuesday
Wednesday
Thursday
Friday
Saturday
Sunday



Click to see map.

22:00

22:45

| Station | Arrival | Departure |
| --- | --- | --- |
| Osijek, Bus terminal | | 13:30 |
| Dakovo, Bus terminal | 14:10 | 14:15 |
| Slavonski Brod, Bus terminal | 15:00 | 15:10 |
| Nova Gradiska, Bus terminal | 16:00 | 16:00 |
| Zagreb, Bus terminal | 17:45 | 18:00 |
| Karlovac, Bus terminal | 18:55 | 18:55 |
| Delnice, Bus terminal | 19:55 | 19:55 |
| Rijeka, Bus terminal | 20:40 | 20:45 |
| Porec, Bus terminal | 22:00 | 22:00 |
| Rovinj, Bus terminal | 22:45 | 22:45 |
| Pula, Bus terminal | 23:30 | |

Operational intervals
01.01. - 31.12.

Monday
Tuesday
Wednesday
Thursday
Friday
Saturday
Sunday



Click to see map.

40

60

Autobusni prijevoz Varaždin d.o.o.

69

| Station | Arrival | Departure |
| --- | --- | --- |
| Porec, Bus terminal | | 09:15 |
| Vrsar, Bus terminal | 09:35 | 09:35 |
| Rovinj, Bus terminal | 10:10 | 10:10 |
| Pula, Bus terminal | 10:50 | 11:00 |
| Pazin, Bus terminal | 11:45 | 11:45 |
| Karlovac, Bus terminal | 14:05 | 14:05 |
| Zagreb, Bus terminal | 15:00 | 15:15 |
| Novi Marof, Bus terminal | 16:10 | 16:10 |
| Varazdin, Bus terminal | 16:35 | |

Operational intervals
01.01. - 31.12.

Monday
Tuesday
Wednesday
Thursday
Friday
Saturday
Sunday



Click to see map.

09:15

10:10

| Station | Arrival | Departure |
| --- | --- | --- |
| Porec, Bus terminal | | 09:15 |
| Vrsar, Bus terminal | 09:35 | 09:35 |
| Rovinj, Bus terminal | 10:10 | 10:10 |
| Pula, Bus terminal | 10:50 | 11:00 |
| Pazin, Bus terminal | 11:45 | 11:45 |
| Karlovac, Bus terminal | 14:05 | 14:05 |
| Zagreb, Bus terminal | 15:00 | 15:15 |
| Novi Marof, Bus terminal | 16:10 | 16:10 |
| Varazdin, Bus terminal | 16:35 | |

Operational intervals
01.01. - 31.12.

Monday
Tuesday
Wednesday
Thursday
Friday
Saturday
Sunday



Click to see map.

29

44

424

| Station | Arrival | Departure |
| --- | --- | --- |
| Umag, Bus terminal | | 14:00 |
| Krizine | 14:05 | 14:05 |
| Lovrecica | 14:09 | 14:09 |
| Karigador | 14:14 | 14:14 |
| Novigrad, Bus terminal | 14:22 | 14:25 |
| Spadici | 14:45 | 14:45 |
| Porec, Bus terminal | 14:48 | 15:00 |
| Zbandaj, Žbandaj | 15:10 | 15:10 |
| Sveti Lovrec, Sveti Lovreč | 15:21 | 15:21 |
| Sosici, Sošići intersection | 15:32 | 15:32 |
| Rovinjsko selo | 15:37 | 15:37 |
| Rovinj, Bus terminal | 15:45 | 15:45 |
| Bale | 16:03 | 16:03 |
| Cestarska Kuca | 16:08 | 16:08 |
| Vodnjan | 16:15 | 16:15 |
| Galizana, ---> Pula | 16:20 | 16:20 |
| Pula, Bus terminal | 16:30 | |

Operational intervals
01.01. - 31.12.

Monday
Tuesday
Wednesday
Thursday
Friday
Sunday



Click to see map.

15:00

15:45

| Station | Arrival | Departure |
| --- | --- | --- |
| Umag, Bus terminal | | 14:00 |
| Krizine | 14:05 | 14:05 |
| Lovrecica | 14:09 | 14:09 |
| Karigador | 14:14 | 14:14 |
| Novigrad, Bus terminal | 14:22 | 14:25 |
| Spadici | 14:45 | 14:45 |
| Porec, Bus terminal | 14:48 | 15:00 |
| Zbandaj, Žbandaj | 15:10 | 15:10 |
| Sveti Lovrec, Sveti Lovreč | 15:21 | 15:21 |
| Sosici, Sošići intersection | 15:32 | 15:32 |
| Rovinjsko selo | 15:37 | 15:37 |
| Rovinj, Bus terminal | 15:45 | 15:45 |
| Bale | 16:03 | 16:03 |
| Cestarska Kuca | 16:08 | 16:08 |
| Vodnjan | 16:15 | 16:15 |
| Galizana, ---> Pula | 16:20 | 16:20 |
| Pula, Bus terminal | 16:30 | |

Operational intervals
01.01. - 31.12.

Monday
Tuesday
Wednesday
Thursday
Friday
Sunday



Click to see map.

45

68

Arriva - Autotrans

Arriva - App Požega

5545

| Station | Arrival | Departure |
| --- | --- | --- |
| Slavonski Brod | | 13:50 |
| Nova Gradiska | 14:30 | 14:30 |
| Rijeka | 18:10 | 18:10 |
| Porec | 19:30 | 19:30 |
| Rovinj | 20:10 | 20:10 |
| Pula | 20:55 | |

Operational intervals
01.01. - 31.12.

Thursday
Sunday



Click to see map.

19:30

20:10

| Station | Arrival | Departure |
| --- | --- | --- |
| Slavonski Brod | | 13:50 |
| Nova Gradiska | 14:30 | 14:30 |
| Rijeka | 18:10 | 18:10 |
| Porec | 19:30 | 19:30 |
| Rovinj | 20:10 | 20:10 |
| Pula | 20:55 | |

Operational intervals
01.01. - 31.12.

Thursday
Sunday



Click to see map.

Not available online


5881

| Station | Arrival | Departure |
| --- | --- | --- |
| Trieste, Bus terminal | | 17:45 |
| Rabuiese, Border | 17:55 | 17:55 |
| Skofije, Skofije Border | 17:56 | 17:56 |
| Koper, Bus terminal | 18:34 | 18:34 |
| Plovanija, Border | 18:50 | 18:50 |
| Umag, Bus terminal | 19:15 | 19:15 |
| Novigrad, Bus terminal | 19:35 | 19:35 |
| Porec, Bus terminal | 20:00 | 20:00 |
| Rovinj, Bus terminal | 20:40 | 20:40 |
| Pula, Bus terminal | 21:15 | |

Operational intervals
01.01. - 12.08.
14.08. - 31.12.

Monday
Tuesday
Wednesday
Thursday
Friday
Saturday
Sunday



Click to see map.

20:00

20:40

| Station | Arrival | Departure |
| --- | --- | --- |
| Trieste, Bus terminal | | 17:45 |
| Rabuiese, Border | 17:55 | 17:55 |
| Skofije, Skofije Border | 17:56 | 17:56 |
| Koper, Bus terminal | 18:34 | 18:34 |
| Plovanija, Border | 18:50 | 18:50 |
| Umag, Bus terminal | 19:15 | 19:15 |
| Novigrad, Bus terminal | 19:35 | 19:35 |
| Porec, Bus terminal | 20:00 | 20:00 |
| Rovinj, Bus terminal | 20:40 | 20:40 |
| Pula, Bus terminal | 21:15 | |

Operational intervals
01.01. - 12.08.
14.08. - 31.12.

Monday
Tuesday
Wednesday
Thursday
Friday
Saturday
Sunday



Click to see map.

35

53