Local buses Dubrovnik
---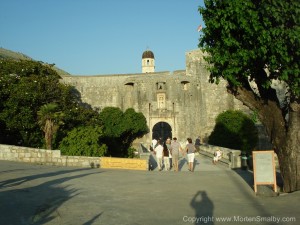 If you are looking for an economical and reliable transportation while staying in Dubrovnik, then city buses are the right solution. The local public transport in Dubrovnik is run by the company Libertas. There are 10 bus lines in Dubrovnik which connect all city parts. The very center is very well connected with all other parts of the city. Bus turnaround point is in the part called Pile which is next to the entrance to the old city walls. Towards Lapad and Babin Kuk, where most hotels and private accommodation are situated, runs bus number 4 (Lapad) and 6 (Babin kuk) which goes from Pile every 15 minutes. You can see a map of all city buses here, and here you can see departure times of the city buses.

Bus ticket prices for public transport in Dubrovnik

Tickets for public transport can be purchased directly from the driver or at kiosks of Libertas which can be found in city parts Pile, Lapad, Gruz or Mokosica. If you buy the ticket from the driver, the price is 15 kn, but if you buy it at the kiosk the price is 12 kn. It is possible to pay for the ticket only in cash. The ticket is valid 59 minutes from the validations / stamping and can be used in all directions. Public transport is not organized as in other cities along the coast, in Dubrovnik you can use the ticket for a return drive e.g. if you have to go from the center to Babin Kuk and back, you can do it with the same ticket as long as the trip in both directions lasts 59 minutes or less. In Dubrovnik, they also have daily tickets which last 24 hours from the first stamping and there is no restriction in the number of trips. Daily ticket price is 30 kn and can be purchased at the above mentioned Libertas kiosks. Children under 6 years accompanied by an adult don't have to pay for the public transport.

Additional tips on using public transport in Dubrovnik

You have to enter the bus at the front door, show the ticket to the driver and validate / stamp it in the appropriate device which is usually behind the driver. You should also know that controls are very frequent and at a request of an official you need to show your ticket. If you don't have a ticket or is not properly stamped, you will immediately have to pay a fine in the amount of 100 kn. Public transport in Dubrovnik runs from 05:00 to 24.00. The company Libertas also has a free phone number ☎ 0800 1910 to which you can refer all inquiries or complaints relating to public transport.

Suburban transport

Dubrovnik

Public transport is also provided for suburban places. The most popular suburban public transport connection is to Cavtat. Bus number 10 runs to Cavtat every 45 to 60 minutes and the starting point is from Gruz in Dubrovnik. Driving towards Cavtat lasts 25 minutes and the ticket price is 25 kn. Dubrovnik is by suburban lines connected with places Slano, Ston, Molunat, Plat, Srebreno… You can see timetable for suburban bus routes here, and here you see a map of the routes available from Dubrovnik.