Croatia bus luggage
In Croatia it is common for privately held bus companies, to charge a fee for luggage for the hold, they do this for several reasons.
Not including the fees for the luggage, keeps the bus ticket prices down, basically the same principle as you probably know from the low cost airlines.
It is more fair, you only pay for what you bring, if you are travelling only with hand luggage you costs are less then the cost of those travelling with 5 suitcases.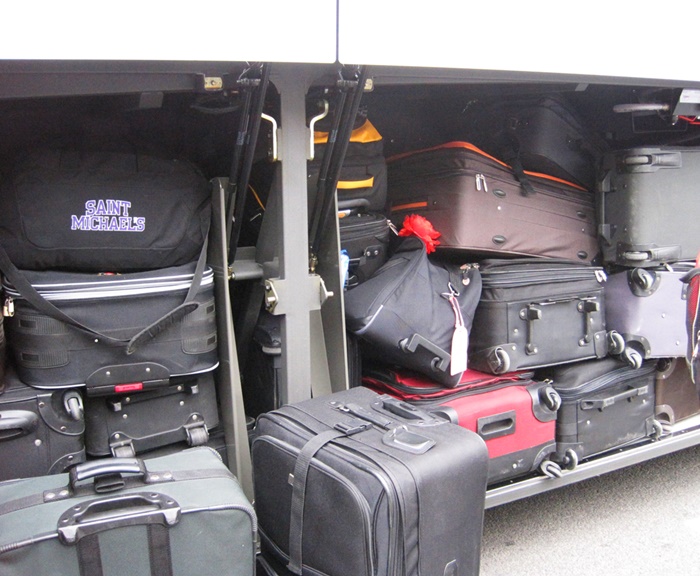 What does it cost to bring a suitcase for the hold?
The price for a suitcase for the hold
depends on the route you are travelling
, if you are travelling on domestic routes and shorter international route e.g. to Venice, Kotor or Mostar, the price is usually 5-10 Kuna per suitcase.
If you are travelling on long international routes like e.g. to France, Sweden or Norway
, price is higher, tombs rule, the longer the route in km, the higher the price, on the longest international routes price is 20-50 Kuna for the first suitcase and up to 250 Kuna for second and more suitcases for the hold.
PLEASE NOTE:
On some international long distance routes there might be a limitation to the amount of luggage you can bring, also in some case the bus companies charge more for the second and third etc, suitcase.
On domestic bus lines they normally charge the same for additional suitcases
, but on busy days there can also here might be a limitation in the amount of luggage you can bring.
How big a suitcase can I bring?
Well there is
no universal answer to that question
, but as a tombs rule you can say that a standard suitcase should be around 160 cm when you add, Length cm + width cm + height cm.
But as mentioned this is just a tombs rule
, from company to company, there might be difference in how they specify the size of a suitcase.
What about bicycle and other large items?
For information about bringing a bike,
please read here
. If you wish to bring other large items on the bus, you should
always consult us or the operating bus company
before buying a ticket for a specific departure.
What does hand luggage costs?
Hand luggage which can fit under the seat,
is generally free of charge
. please note the driver is the one deciding weather a piece of luggage is hand luggage or has to go to the hold of the bus,
so please do not dispute his decision
, he is after all the one in charge of your and fellow passengers safety on board.