Bus Sweden to Croatia
From as far north as Uppsala in Sweden it is possible to travel with bus to a large number of cities in Croatia, the south most being Dubrovnik.
The bus drives each Thursday night at 20:00.
The bus follows the each cost in Sweden down to Malmo, on the way there you can enter the bus at named stops in the following cities:
Stockholm
,
Södertalje, Nyköping Norrköping
, Söderköping, Valdermasvik, Västervik, Oskarshamn, Mönsterås, Kalmar, Karlskrona, Ronneby, Karlshamn, Sölvesborg,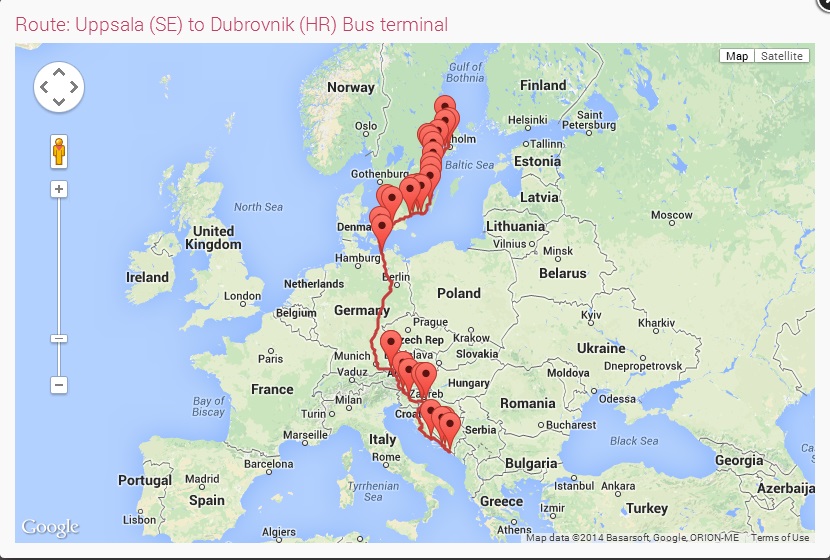 At Friday morning about 08:00 the bus arrives in Malmo
where it "meets" with a bus which started in Drammen in Norway and then continued down the Swedish west coast, this bus takes on passengers in the following Swedish towns,
Udevalla, Gothenburg, Varberg, Falkenberg, Halmstad, Helsingborg, Landskrona
. After packing passengers from both buses in to one, the bus continues to Copenhagen, where is also collects passengers, before continuing to Germany via the ferry connection Gedser to Rostock.
First exit point at the trip is Ljubljana
, where the bus arrives
Saturday morning at 05:30
and from there on the bus continues to Zagreb, where it is schedule to arrive at 07:00 to 07:30 pm. From Zagreb you can change bus and travel to most other cities in Croatia, or you can continue with the Sweden line, to e.g Split or Dubrovnik, below we have list some of the most popular connections, sorted in alphabetic order:
.
The bus trip I conducted in modern long distance buses
, depending on number of booked ticket, the main part of the route from Sweden to Zagreb is serviced, with either single or double-decker bus. On the trip there will be stops for eating.
You can find departure time for this bus route,
using the search fields at the top of the site, remember to pick Thursday as travel day from Sweden, if you wish to travel on this route in the opposite direction you need to pick Saturday as departure day.