Bus from Stuttgart to Croatia
Most days of the year it is possible to travel with bus directly from Stuttgart to several cities in Croatia, during winter season the most popular destinations is Zagreb, during summer season the cities on the Dalmatian coast. The main bus station in Stuttgart has been closed seen 2010 since then international buses has been operating from and interims bus station in Obertürkheim, the bus station is located at the following address: ZOB-Obertürkheim, Hafenbahnstraße 15, 70329 Stuttgart. (Park +Ride-Platz Hafenbahnstraße). Once you get to the park and ride you should easily be able to find where the bus is parked, but nevertheless make sure to arrive in do time.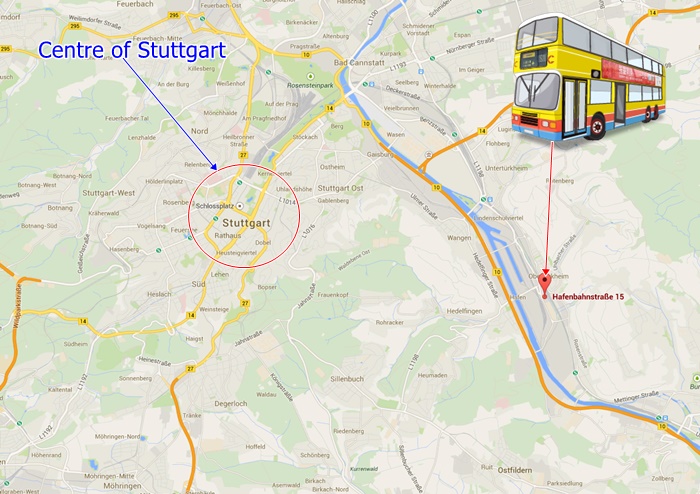 How to get to the ZOB Obertürkheim? If you plot the following GPS co-ordinates 48.762087, 9.266788 into your Navigation system or Smartphone, this should take you to Hafenbahnstraße 15. In terms of public transportation to the bus station, you have option to take S-train line S1 to the Obertürkheim "S-Bahn Station", from here there is about 2-3 minutes footwall to where the bus departures.Alternatively you can take bus number 61,62, 65 or 101 to the "S-Bahn Station" or bus number 103 which stops in Hafenbahnstraße If you have friends or family taking you to the bus, then can park at the Park +Ride-Platz Hafenbahnstraße (fees apply) basically just next to the bus. Bus connections from Stuttgart to Croatia
It is possible to travel from Stuttgart "directly" (Buy a ticket to) to more then 20 cities in Croatia, below we have listed the cities sorted by geographical regions, click on the cities you wish to travel to, to see ticket prices and departure times of the bus. Bus from Stuttgart to cities in the mainland part of Croatia
Bus from Stuttgart to Cities in Dalmatia
Bus from Stuttgart to cities in Kvarner
Bus from Stuttgart to Cities in Istria
Not all buses run all the year, so remember to check availability on the date you wish to travel.