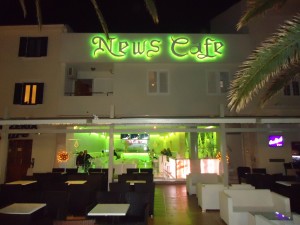 Novalja is not only a great spot for a family holiday; the city is also popular do to its summer parties at the Zrce beach. For those flying into Split or generally coming from Split and heading for Novalja, there is not too many options in terms of travelling, but with a bit of flexibility and waiting, it is possible too travel between the two cities.
The most direct travelling route between Split and Novalja has a distance of 215 km, bus companies in most cases drive on route which is up to 30 km longer.
Travelling by bus from Split to Novalja:

The direct bus connection between Split and Novalja is limited to a seasonal connection; you can see departure time of the direct connection below. Other alternative is first to travel from Split to Zadar, and then change to a bus for Novalja, this options has several daily departures, you can find departures Split to Zadar here, and departures from Zadar to Novalja here. Travel time depending on route range from 4.5 hours to 6 hours or more. SEE map below for detailed route description.

Departure - Arrival
Info
Company
Price (Single / Return)
ID-261
17:00 - 21:30

| Station | Arrival | Departure |
| --- | --- | --- |
| Split (HR) Terminal | | 17:00 |
| Trogir (HR) Terminal | 17:30 | 17:30 |
| Sibenik (HR) Terminal | 18:30 | 18:30 |
| Zadar (HR) Terminal | 20:00 | 20:00 |
| Pag (HR) | 21:00 | 21:00 |
| Povljana (HR) | 21:00 | 21:00 |
| Gajac (HR) | 21:25 | 21:25 |
| Novalja (HR) Terminal | 21:30 | |

Operational intervals
01.07. - 01.09.

Monday
Tuesday
Wednesday
Thursday
Friday
Saturday
Sunday



Antonio tours Pag


ATP
/
From Split airport to Novalja: If you arrive at the Split airport you have two options, either you take local bus (or taxi) to Trogir and grab a bus to Zadar there. Other option is to take the Airport bus to the centre of Split, and then catch a bus to Zadar from there.
Note: Several of the buses from Zadar to Novalja are seasonal, so remember to check departures for your exact travelling date.
Other means of Transportation:
By Car: Driving to Novalja with own or rented car, takes about 3 hours, on the route following the highway to Zadar, the toll free route following the coastal like, takes about 4 hours, in main season possible even more do to traffic. If you choose to rent a car in Split, which you can do here, be aware that one way rental to Novalja is normally not possible.
GROUP TIP: private transfer is available between Split and Novalja from 1 person up to group of 45 persons, you can checkout transfer offer here
Destination tips Novalja
Although Novalja is generally most know as I party town, it is for sure also a place for a family vacation, the party takes place well out of town, so you should not worry about party noise. In the Novalja there are some hotels, and plenty of private accommodation units, a large selection you can find here, for those on a budget there is also option to stay in a hostel or in a bed and breakfast, offer for bed and breakfast you can find here.

View Bus Split to Novalja in a larger map