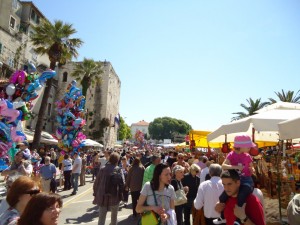 The distance between Dubrovnik and Split about 215 km following the coastal road, the alternative route (combination of highway and coastal road) is a bit longer.
Travel time by bus: The travel time vary from 4 to about 6 hours depending on travel route, the fastest buses goes via the highway.  NOTE: The bus will pass trough Bosnia & Herzegovina by Neum, so remember to bring valid passport.

From Split you have a larger number of international departures, and less than 100 meter from main bus station you find the ferry port, whit lots of daily departures to the Dalmatian islands.


Unfortunately we did not find any direct routes matching your search criteria! Here is what to do:
Try to search for a bus to the nearest larger city e.g. Rijeka, Zagreb, Zadar or Split and then find a bus from there to your final destination
If this does not give you any options matching your requirements from a time perspective, you should consider using other means of transportation, renting a car would probably be the best option.
If you are travelling to or from an airport in Croatia, you will have to travel to the nearest larger city and then change bus there to reach your final destination.
If you are travelling to one of the larger tourist attractions like e.g. national park Plitvice lakes, you have the option to join an organized bus excursion, more about that here
Travel tips Dubrovnik Split: Make sure to get a seat at the left side of the bus, if you are travelling on the coastal route, you will not regret it when you see the view
Accommodation in Split: If you haven't yet found your accommodation in Split, don't worry! You have a large selection of apartments and Hotels, As well as low budget accommodation like apartments, hostels and B&B by clicking on the icons here:
Other means of Transport:
By Car: travelling by car between Dubrovnik and Split, takes from 3 to 5 hours (in summer even longer), again here the route via the Motorway is the fasted. Depending on time of year, renting a car (one way rental possible), is for 3 people or more in most cases the most economical way of travelling between the two cities.
By Train: There is no train connection
By Ferry: There is a direct ferry sailing in the summer period.
By Plane: Croatia airlines, has a few daily departures, but don't expect to save much time compared to travelling by bus or car.
Map routes from Dubrovnik to Split:

View Bus Dubrovnik Split in a larger map